Pergolas add elegance to outdoor landscapes, delineating spaces for dining, relaxing, meal preparation, meditation, yoga, and other leisure activities. If you're considering adding a pergola to your backyard or commercial space, there are three basic designs to choose from: attached, freestanding, or hybrid.
While attached and freestanding pergolas are the most popular choice, hybrid variations have their benefits as well. Consider the pros and cons of different pergola styles when designing your ultimate outdoor living space.
Attached Pergolas
An attached pergola uses a wall of an existing structure to support one side. This style is great for smaller outdoor spaces, such as a patio or terrace. The top framing is anchored to the wall with two posts or columns supporting the opposite side.
Attached pergolas generally do best when installed over a concrete foundation, and most will have joists running perpendicular to the wall, allowing sunlight to filter through. In addition, attached pergolas are structurally sound since they are supported by the wall of an existing home or building. Depending on your location, building permits may be required to install it. However, only two posts are needed, so this may offset building expenses. Outdoor televisions, movie projectors, fans, and heating systems are easy to incorporate since attached pergolas are close to electrical outlets in the home.
Freestanding Pergolas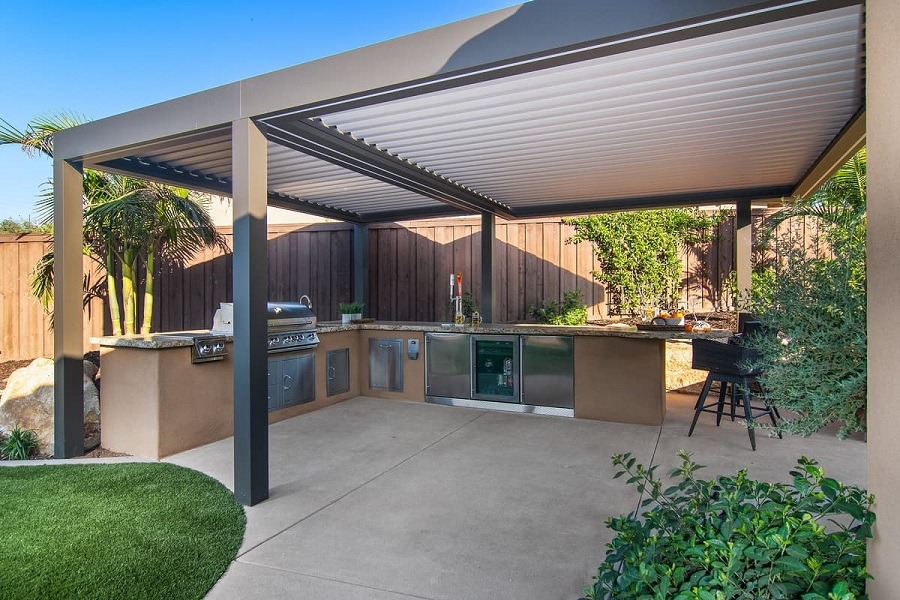 As their name implies, freestanding pergolas are not supported or attached to any existing structure. The obvious benefit of this design is that there are more options for size, location, and orientation. A detached pergola must be properly anchored to be stable– by concrete footings or digging post-hole footings.
A freestanding pergola can be accessorized any way you like. You can make it an extension of your existing architectural style or create a new aesthetic for a stunning outdoor focal point. Permits may be necessary depending on the height and location of it. Electric and utilities will have to be planned in advance to integrate privacy screens, fans, or other non-solar features.
Hybrid Pergolas
A hybrid pergola brings elements of both the freestanding and attached design. At its core, it is a detached pergola that lacks an overhang on one side.  The hybrid pergola is less prevalent in residential and commercial settings but can be a smart way to maximize covered space in areas with unique shapes or other limitations.
Discover Luxury Pergola Products
A luxury pergola can be a fantastic addition to your property regardless of the design selected. Whether you want to create a stylish spot for entertaining and dining or expand your backyard enjoyment, Outdoor Elements USA is here to help. If you have any questions regarding our pergola designs or products, please contact us today!
Other Featured Blog Posts