Want to spend more time outdoors with your furry friends? When you think about creating a pet-friendly space on your patio, you'll need to consider a few factors—from navigating different weather conditions to creating a comfortable space. At Outdoor Elements, we know how important it is to provide a safe spot for your pets to relax outdoors and  create an oasis that everyone can enjoy!
Prioritize Paw Protection
When the temperatures climb in the summer, concrete and asphalt surfaces can reach temperatures hot enough to injure your bare feet. Since dog and cat paws are just as sensitive, walking can cause burns to their paw pads. To protect your pets from harsh sunshine, consider installing awnings over your patio. Louvered pergola roofs offer fully adjustable shade coverage when you want to relax in your outdoor space with the entire family. You can control the system to  eliminate the sun's direct contact with your patio, so you won't have to worry about paw burns.
Choose Pet-Friendly Furniture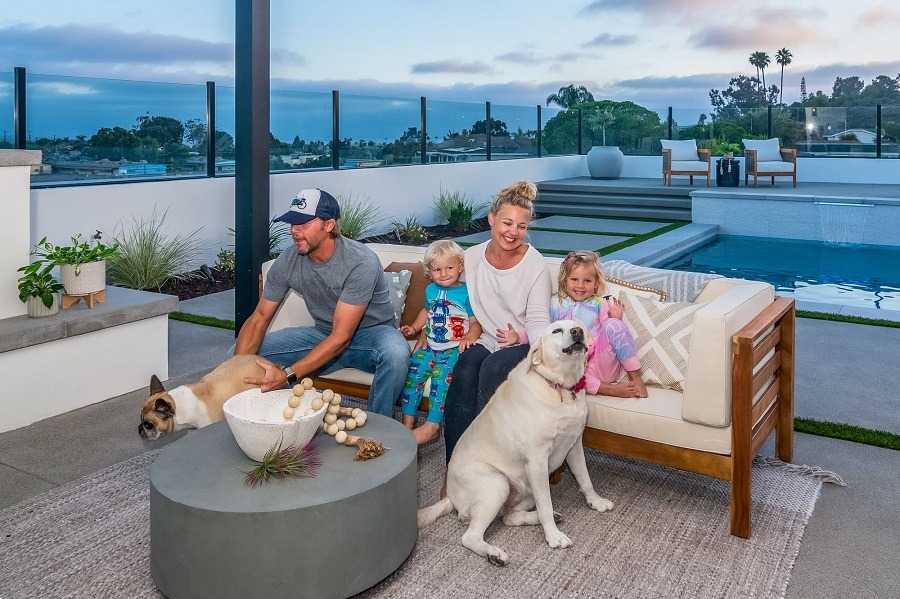 As a pet owner, you already know how much your furry friends enjoy laying on the furniture with you. As a result, you'll want to make sure it is accommodating for them.  If  your outdoor furniture is rattan, you can invest in some pieces specifically designed for your pets—a miniature couch, a comfy dog chair—so you can maintain a consistent aesthetic. Consider low outdoor furniture, like a wicker couch with thick, soft cushions, if you have a senior pet. When choosing furniture, consider their age, their lounging styles, and your budget.
Keep Your Pets Hydrated
If you've ever left water outside in the summer sun, you know how quickly it can become warm—and the same goes for your pet's water bowl. If your pets don't stay hydrated while outdoors, they can become vulnerable to heat stroke or severe dehydration. With louvered awnings and roofs, you can keep your pet hydrated in the sun with cold and refreshing water. Our durable louvered roofs easily open and close to keep your patio comfortable, so your family and furry friends can spend time in  your outdoor space all year.
Elevate Your Outdoor Space with Louvered Roofs
At Outdoor Elements, our louvered roofs are engineered with the highest-quality materials to create a stylish, safe outdoor space for your entire family. Ready to relax with your furry friends? Bring customized luxury to your space to create a serene outdoor oasis that everyone can enjoy. Contact Outdoor Elements USA for more information about our range of patio covers.
Other Featured Blog Posts