Do you love entertaining outside– hosting casual cocktail parties and themed game nights? Or do you envision an inviting backyard space for date nights and quality family time? When planning a backyard renovation, consider your lifestyle and priorities first.
Outdoor living has become increasingly popular in recent years, and there are numerous reasons why homeowners want to revamp their backyard spaces. Whether it's a cozy lounge area, a state-of-the-art alfresco kitchen, or a shaded seating area that can be used year-round, a backyard renovation can provide a beautiful and relaxing retreat while boosting the value of your home.
If your backyard space needs a refresh, consider these renovating tips.
Invest in an Outdoor Kitchen
A deluxe, fully equipped outdoor kitchencan dramatically transform your backyard. If you have a passion for cooking and entertaining, this can provide endless possibilities and greatly enrich your life.  . An outdoor kitchen adds luxury and is a highly desirable amenity among future home buyers. This feature can be outfitted with gas ranges, refrigerators, pizza ovens, grills, serving stations, and ovens to highlight your culinary skills.
Install a Patio Pergola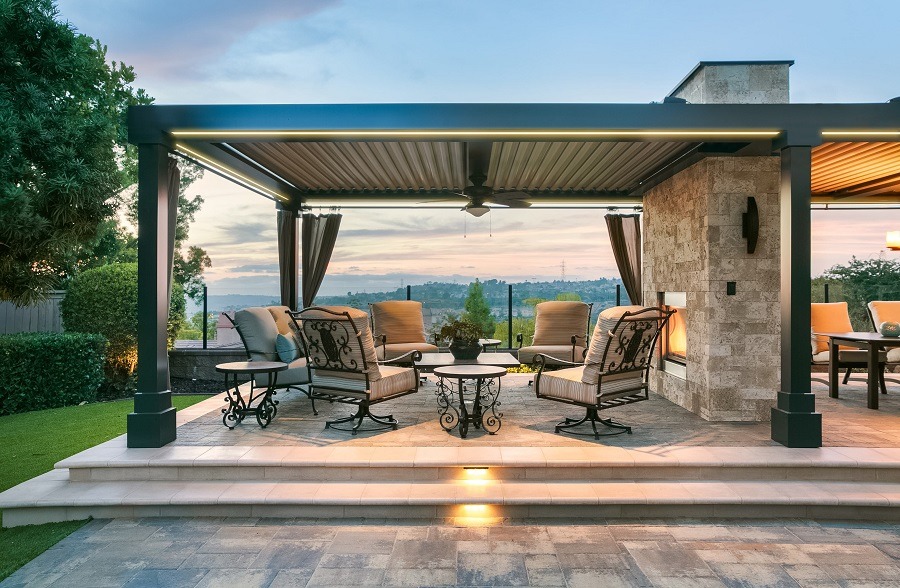 Pergolas are great for backyards of all sizes since they can be manufactured to exact dimensions. These outdoor structures define space while creating a more intimate feel. Homeowners have many options for creating a backyard sanctuary that suits their needs. At Outdoor Elements, we offer three different patio pergola products that can be customized with enticing features.
The unique design of a Skyview pergola makes it a great addition to backyard patios and terraces in need of filtered shade. Enjoy the cozy feel of an enclosed space without sacrificing views since the pergola's roof slats stay in a fixed position. Crafted in powder-coated aluminum, these structures are built to last for years with minimal maintenance.
Our Signature Louvered Roof can be adjusted by remote or app to protect your patio from the elements. This allows you to enjoy your outdoor seating area regardless of the weather.
Our Serenity Pergolas by Outdoor Elements are designed with insulated panels which maximizes the cooling effect of their shade. They stay in place for a solid covering. There is no motor and no automated adjustment, leaving the roof in the same position at all times.
Focus on Landscaping
Carefully planned landscaping can transform backyard spaces into lush sanctuaries. The key is to select plants and flowers that look natural in their setting and will thrive in your area. The right landscaping increases curb appeal and makes your outdoor space more inviting. Some environments are better than others for planting grass. An excellent alternative is to camouflage bare spots with river stones, colored pebbles, or mulch. Don't forget about lighting, which can highlight the foliage in your yard.  Solar lights along the pathways are a good option, as well as spotlights on larger trees.
Get More from Your Backyard
These renovating tips can help you create a backyard that is stylish, comfortable, and functional. Need some extra help designing your perfect open-air oasis? Outdoor Elements can provide inspiration and guidance and help bring your vision to life. Contact us today to learn more about our revolutionary patio pergola products that will change the way you experience your outdoor space.
Other Featured Blog Posts