Pergolas provide shade, shelter, and beauty and play an essential role in defining outdoor spaces. Whether you live in the heart of the city or a more rural setting, it's wonderful to have a protected outdoor space to relax, enjoy casual meals, and entertain.
While the traditional pergola design with four posts and a semi-open roof has been around for centuries, there are new ways to maximize usable garden space. We're talking about a corner pergola, a three-sided design that transforms overlooked or odd-shaped outdoor areas into a welcoming patio space.
Transform Overlooked Corner Space
A corner-design pergola gives homeowners the freedom to create a multi-purpose outdoor area where a traditional structure would not fit. The primary advantage of a corner pergola is its versatility. The three sides and triangle-shaped roof can be manufactured to accommodate any size, meaning you have choices when it's time to fashion a cozy outdoor oasis.
Urban yards are often short on real estate, and a corner pergola is designed to make the most of limited space. Let's consider some of the benefits of installing a corner pergola in your residential property space:
Adds visual interest to the backyard
Can be freestanding or attached to the building structure
Creates a distinct area for dining, entertainment, meditation, reading, movie night, or other activities
Shields guests from sun, wind, and rain
Ensures natural ventilation and views
Provides structure for climbing vines and other greenery
Designed to create a seamless link between interior and exterior spaces
Increases the value of your home
Create a Custom Backyard Retreat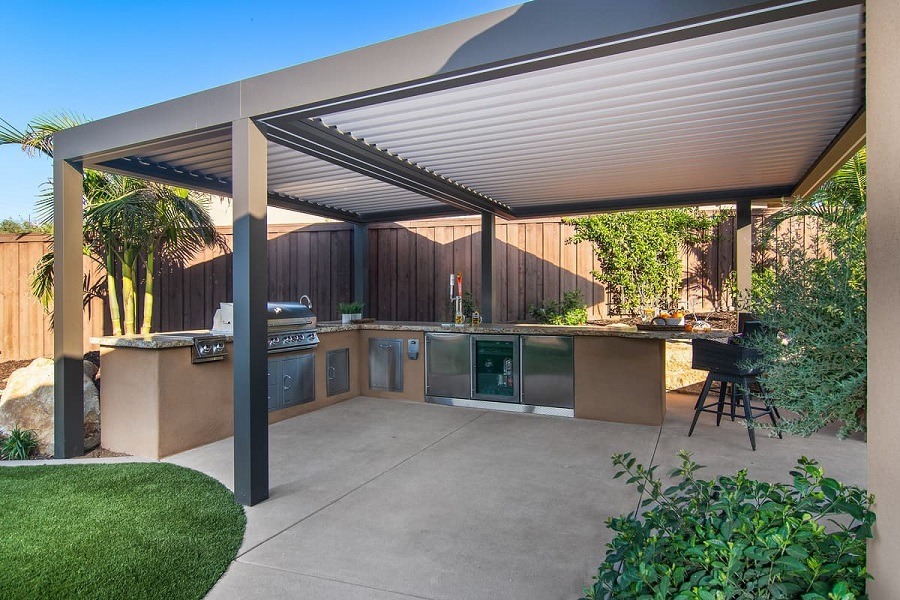 If you want to create a hideaway in an unused corner of your yard, corner pergolas designed by Outdoor Elements are an excellent option. Featuring a durable powder-coated aluminum frame, our pergolas resist corrosion and offer numerous options for shade, privacy, and shelter. Our luxury products feature roof beams with automatic adjustment and fixed beams that provide partial shade.
A corner pergola design is ideal for those awkward shaped outdoor spaces, allowing you to bring family and loved ones together in a natural backyard setting. These structures can be especially inviting when outfitted with integrated LED lights that can be switched on at dusk.
Customize your outdoor corner space with state-of-the-art features like professionally installed heating systems, designer fans, and even privacy screens.
Luxury Pergola Products Customized for Your Needs
For unrivaled expertise in architecture, design, and construction of quality pergola products, you can count on Outdoor Elements USA. Our innovative products–built from extruded aluminum–are manufactured right here in America and backed by an industry-leading warranty.
Elevate the functionality of your outdoor space with an investment that provides years of enjoyment. Contact us today for more information about designing a corner pergola that suits your environment.
Other Featured Blog Posts