More than one-third of Americans work remotely, and that percentage is expected to increase because the advantages of working from home are becoming evident to companies and employees alike. If you're working from home and have a patio, garden, or outdoor area, you may want to consider setting up a backyard office space where fresh air abounds, and creativity thrives.
Backyard Office Space Benefits
Working from home can come with distractions so it's crucial to have a dedicated workspace where interruptions  are minimal and you can get things done.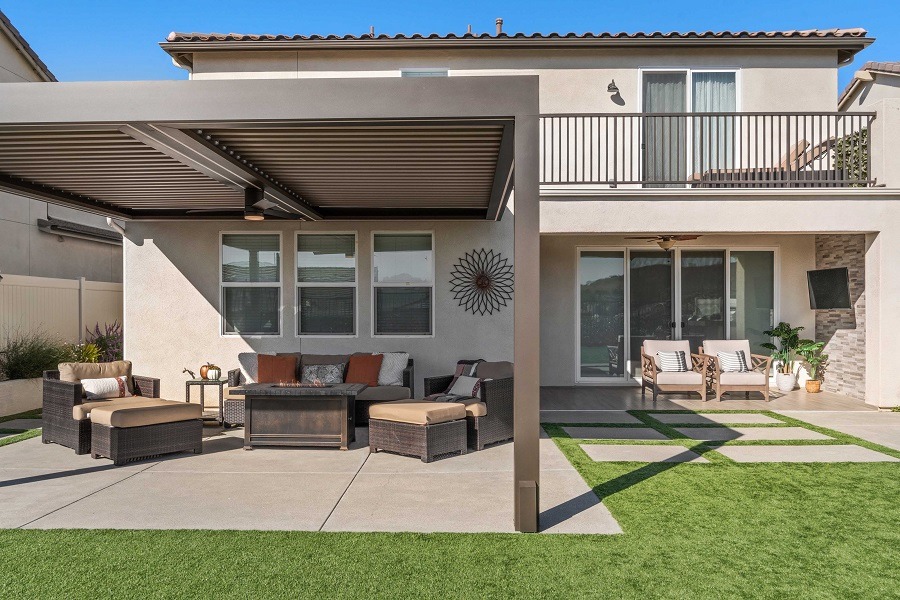 Moving your home office to the fresh, open  outdoors comes with many advantages– from increased productivity to lower stress levels. Humans have an innate connection with nature, and with a backyard office, you'll reap the benefits of a calm and focused environment and a better separation of work and home life.
The list of key benefits of a backyard office space are plentiful.
No More Commute = Money Savings. The average American has a round-trip work commute of just under one hour. With a dedicated office space in your backyard, you'll save thousands of dollars on gas, parking fees, vehicle maintenance expenses, and take-out lunches.
Enhanced Concentration & Productivity. With fewer distractions and background noise, your concentration skills will improve along with productivity. You will make the most of your valuable work hours and leave more time for family, friends or relaxing.
Better Working Memory and Cognitive Skills. Spending time outdoors can improve memory, creativity levels, and cognitive flexibility.
Improved Physical Health. A growing body of evidence suggests that exposure to nature can help lower stress levels, blood pressure, and the risk of cardiovascular disease, among other stress and lifestyle-related ailments. Also, spending time in the sun produces Vitamin D which boosts the immune system and helps prevent sickness and disease.
Boosts Mood & Emotional Well-being. Research has also shown that being outside can have a significant impact on mood. Working outdoors makes people happier, more relaxed, and less prone to anxiety or depression.
Easy to Break for Exercise or Meditation. Want to fit in a 20-minute HIIT routine or yoga session? It's easy when your office is located right in your backyard. Take breaks whenever needed to keep your mind focused and energy levels high. Even quick walks around your outdoor space can help reset your thoughts and be ready to work again
Enjoy a Healthier Lifestyle. Workers who have views of trees or greenery tend to need fewer sick days compared to those who don't. Nature is good for our physical and emotional health. Also, with a backyard home office, you're bound to make healthier food choices when lunch hour rolls around since your kitchen is just steps away.
Permanent Shelter to Maximize Flexibility
If you don't have a sheltered porch or patio, this can limit your ability to work outside when the weather isn't cooperating, or the sun is too harsh for electronics. With a covered patio, you can create your backyard office as an extension of your home's deck or as a standalone pergola structure. This permanent shelter will ensure protection from the sun, rain, and wind.
At Outdoor Elements USA, our louvered patio roofs can be outfitted with LED lights, heating systems, fans, privacy screens, and other custom features. Create a comfortable and weather-protected office space in your backyard with our range of durable pergola products.
Other Featured Blog Posts