Yes, you can build a pergola near a fence, but it's always a good idea to check your local housing laws or homeowners' association. Generally speaking, you can install a pergola at least 16 feet from a boundary fence, although the precise distance will depend on the size of your property and local codes.
In most parts of California, for example, pergolas and patio structures must be located at least five feet from real–or assumed–property lines. Every state has its own set of regulations for building outdoor structures, so if you are uncertain, reach out to your municipality for more information.
Long-term considerations for building a pergola
Pergolas offer shade, comfort, and privacy for lounging, dining, and entertaining outdoors. When installing a pergola on residential property, location is an important factor. For example, a pergola built too close to any garden structure, or fence line can limit additional changes you want to make in the future.
Local zoning laws aside, the ideal place to build a pergola is where you want shade and some protection from the elements. A pergola can define space and create an inviting sitting area in a currently unutilized backyard space. Consider integrating your pergola with the existing landscape so it can complement and look intentionally placed. For optimal shade, install the pergola so the beams run north to south. Then, as the sun moves across the sky, the pergola beams will provide more shade under the structure.
Why avoid putting a pergola next to a fence?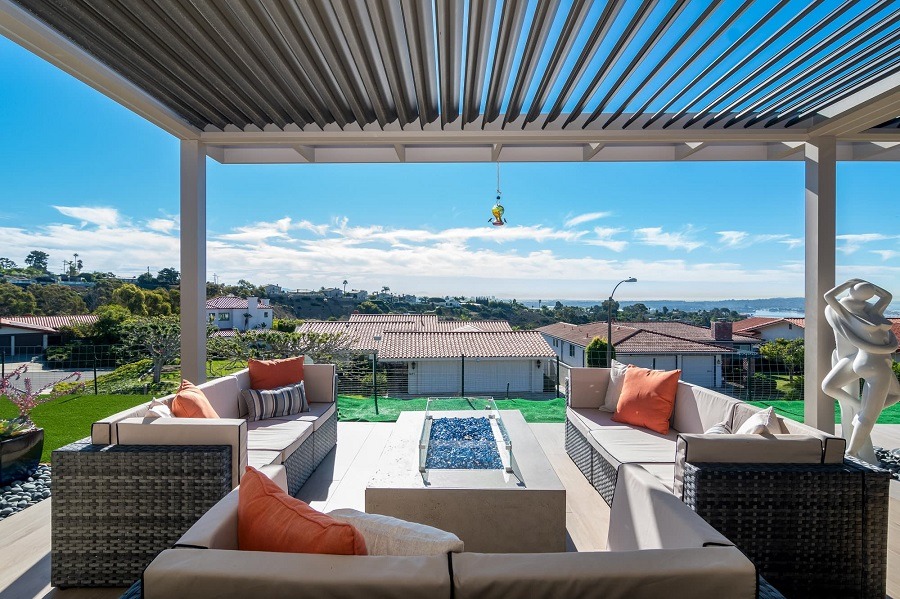 Aesthetics are important, and a well-built pergola is an attractive landscape structure. Building a custom pergola near a fence may be feasible, but will this location detract from the flow and ambiance of your yard? For example, will the pergola block a beautiful view or natural sunlight if installed next to a fence? You want to keep these considerations in mind when planning your pergola placement.
Since fences often double as property lines that are enhanced with privacy plants and trees, you might want the pergola farther away, so the branches and shrubbery don't take away from the backyard sanctuary you create.
Enlist professional help from Outdoor Elements
If your backyard is on the smaller side and hemmed in with a fence, fear not. You can still build a pergola and create a sheltered and intimate outdoor living area. If you're still wondering about ideal pergola placement, Outdoor Elements USA is here to help. We design, manufacture, and install quality pergola products built to last for decades and can be customized with a wide range of state-of-the-art amenities and features. Reach out today to speak with one of our national dealers in your area.
Other Featured Blog Posts