The great news for homeowners who want to maximize their backyard enjoyment throughout the seasons is that a majority of decks can support pergolas. Whether your deck is made out of lumber, recycled PVC, or a composite material,  installing a custom pergola for shade and extra weather protection should be simple.
Types of decks that can support a pergola
Well-maintained wood planks, plastic, and composite, as well as decks made of stone or concrete, are sturdy enough to support a modern pergola. While you can install one on almost every deck or patio surface, the easiest are those that are stable and low to the ground. Cantilevered decks raised on stilts are more challenging–but not impossible–when it comes to a pergola installation. If adding a pergola to a raised deck, ensure the supports are securely attached to deck joists.
Since pergolas can be top-heavy, they need to be firmly attached to the deck with anchor brackets and have lateral bracing for increased stability. It's worth noting that most rooftop decks can support a pergola as well. Pergolas are a terrific way to enhance a rooftop setting while providing extra privacy.
Designing your deck pergola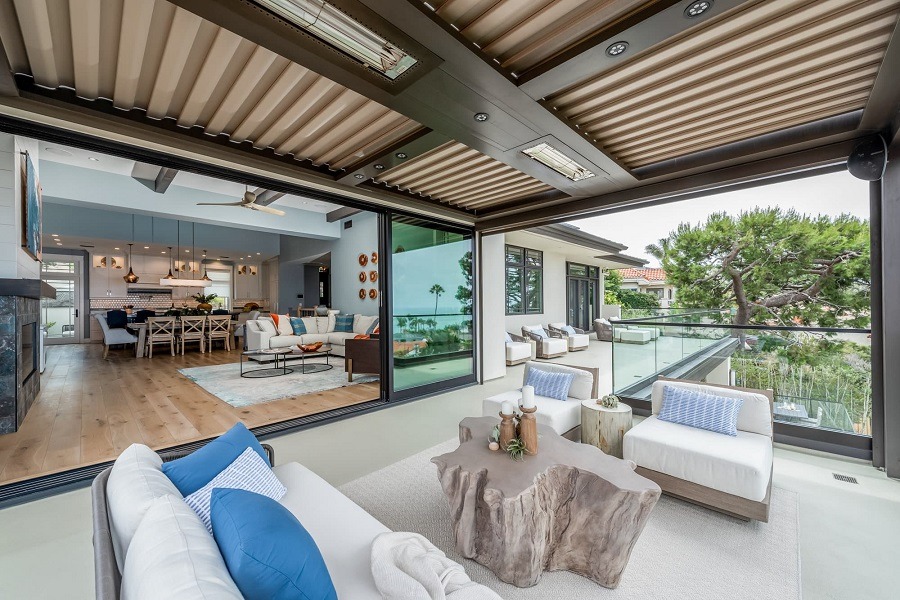 Once you've established you can install a pergola on your  deck, the fun part begins! Maybe you want to create a luxurious outdoor sanctuary that mimics the feeling of being inside with a solid roof structure or adjustable louvers that can be opened or closed as needed.
There are various options for pergola roofs, from insulated panels and automated louvers to simple beams that are fixed in place. If you want additional coverage or protection from the elements, you may consider installing a motorized screen that extend  with the  touch of a button.
Advanced pergola roof features give you the flexibility to customize every detail of your outdoor environment. At Outdoor Elements USA, our pergolas are made with corrosion-resistant powder-coated aluminum that can be painted in any number of designer or classic colors.
From simple to opulent, you can elevate your backyard space with our signature pergola products.
Skyview Pergolas

– fixed roof beams remain in the same position at all times, providing 60 percent shade.
Serenity Pergolas by Outdoor Elements – pergola roofs feature 2′- 4′ insulated panels that stay in place for a solid covering.
Signature Louvered Roofs – horizontal louvers can be rotated a full 180 degrees for complete control of your outdoor environment. The louvers are controlled using any smart device or handheld remote control.
Contact us today!
Outdoor Elements USA can help transform your backyard deck into a functional, beautiful living space. Contact us today for more information.
Other Featured Blog Posts