Yes, sunlight filters through the roof beams of a pergola, which is designed to provide varying amounts of shade, depending on the structure's style and design. A popular addition to outdoor living spaces, pergolas shade your deck or patio without impeding views or breezes.
When the temperatures rise, a shaded pergola is a great way to beat the summer heat in your backyard. They block more heat than their cloth counterparts and provide at least 60% shade coverage for a more comfortable outdoor experience. These semi-shaded areas are ideal for dining, poolside lounging, entertainment, or coffee in the morning. Pergolas also offer a sense of privacy if you have neighbors that overlook your backyard.
Welcome the sun with Skyview Pergolas
Whether you want a cozy garden seating area or an alfresco spot for cocktails with friends, these structures are a smart way to keep things shaded without totally blocking the sun. Our Skyview Pergola embraces the simplicity of traditional pergola design, with fixed roof beams that scatter the sun's rays. Most homeowners will install a pergola in a north-south direction so that the seating area beneath enjoys morning sun and afternoon shade.
Since the Skyview Pergola posts and roof beams are made of high-quality extruded aluminum, they are more efficient at absorbing heat. Powder-coated aluminum is also resistant to corrosion, which makes it an excellent material for coastal locations. For additional shade on the sides, you can add hanging plants, lattice walls, or motorized privacy screens.
Motorized louvered roof for more shade
For extra UV coverage on warmer days, consider our Signature Louvered Roof products that are designed with adjustable roof louvers that can rotate 180 degrees. The louvers can be opened to allow full sun, rotated for partial coverage, or closed for cooling shade or shelter from the rain. Our automated system with optional sensors will enable you to control the louvered roof using your smartphone or handheld remote control.
This state-of-the-art technology gives you total control of your outdoor environment. Create a comfortable backyard oasis bathed in sunlight, dappled shade, or open to the stars at night.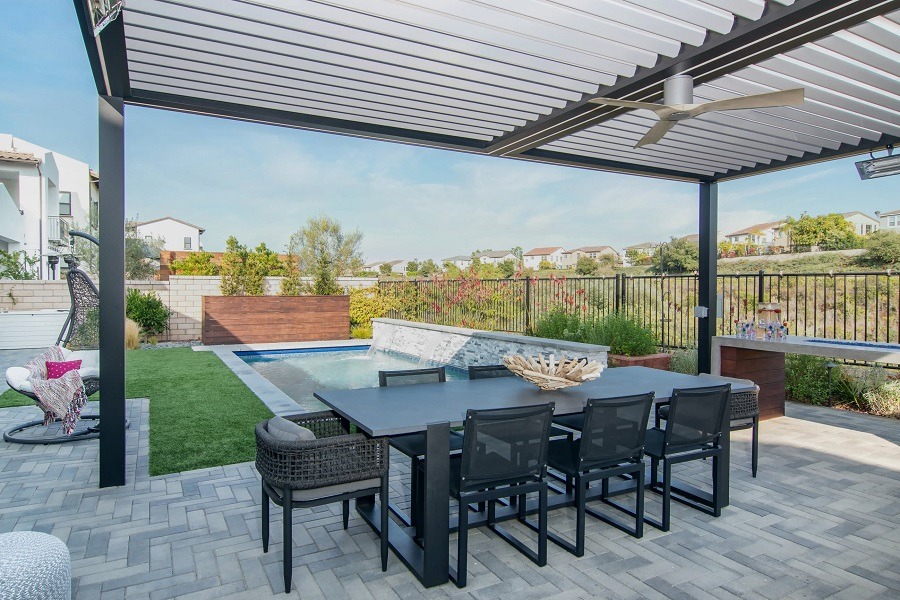 Elevate outdoor living with or without the sun
Whether you want partial sun or complete weather protection in your backyard retreat, Outdoor Elements USA has the perfect solution for your needs. Our Skyview Pergolas and Signature Louvered Roofs can be personalized to create the perfect outdoor oasis, with features like ceiling fans and integrated LED lighting. Contact us for more information about our premium pergola products.
Other Featured Blog Posts