You can turn your backyard into a beautiful and functional outdoor dining area meticulously custom-designed for your environment. First, consider the location of your outdoor space and choose the right furniture and lighting to create the ambiance that best suits your style.
An Outdoor Elements louvered roof will dramatically transform your backyard into the perfect outdoor dining space. Whether you're looking to host intimate family gatherings or entertain large groups of friends, you can create an inviting space for delicious home-cooked meals and socializing. Here are a few ideas to get you started.
Personalize Your Space
Choose furniture, table linens, and other accessories to create an ambiance that best suits the existing architecture of your home or its interiors. Do you prefer a rustic, farmhouse-inspired setting? Choose a white wooden table and matching chairs. Add a pop of color with blue striped table linens and a vase of blue and white flowers. Coordinate pillows and throws to tie it all together.
Perhaps you prefer sleek and modern. In that case, a glass-topped table and wrought iron chairs with comfortable cushions will set the mood with soft indirect lighting for an elegant dinner under the stars. Remember to measure your space so your guests are comfortably seated.
Practical Issues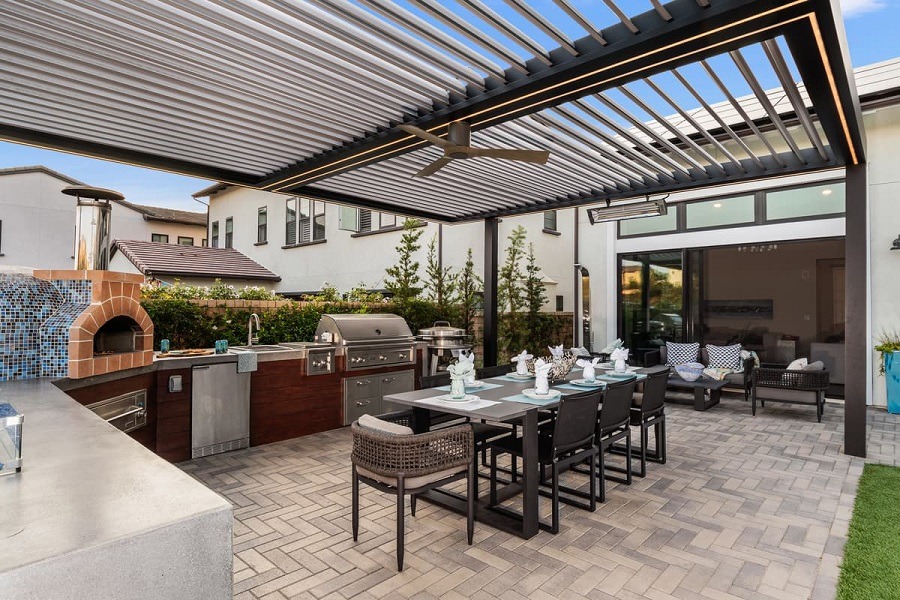 An outside dining area lets you embrace the beauty of nature while sharing a meal with friends and family. Be sure to locate the outdoor eating area so it has easy access to your kitchen. Also, place your dining table so that it is far enough from the grill, pizza oven, or other cooktop surfaces to keep everyone comfortable.
Add Special Touches to Your Evening
Your table settings can be as formal or as casual as you prefer. It's wise to invest in several tablecloths with matching cloth napkins in varying colors to accent your tablescape so you always have clean ones on hand if there is a minor accident. Many people also have a set of reusable tableware made of bamboo, enamel, stainless steel, or wood—perfect for a farmhouse, rustic, or boho vibe.
How to Light up the Night
Our integrated pergola lighting systems combine cutting-edge innovation with industry-leading quality to illuminate your evening under the stars. We are proud to offer eco-friendly LED lighting, which uses less energy and runs much longer than older alternatives. Choose romantic, moody lighting, or go all out with bright colors for a children's birthday party.
Turn Your Backyard into a Dining Area with Outdoor Elements
Whether looking for a quiet escape for weeknight dinners or a lively setting for big holiday dinners, your backyard dining room will undoubtedly become the favorite of your family and friends for delicious alfresco meals. Our louvered patio roofs are engineered with the highest quality materials, creating a warm and inviting space in your backyard. We bring customized luxury to your life.
Other Featured Blog Posts