Restaurants across the country got creative when the pandemic hit, looking for ways to keep business afloat by creating outdoor dining and socializing areas. But how do you make alfresco dining a profitable year-round experience when the weather isn't cooperating?
264 Fresco– a Carlsbad favorite for delightful wood-fired pizza and authentic Italian cuisine– is a great example. Owner Linda Dinitto added an outdoor deck with a louvered roof system to increase restaurant seating capacity when social distancing was at its peak.
Expanded Patio Dining at 264 Fresco
The result was a comfortable, sheltered spot where patrons could enjoy shareable platescraft cocktails, and wine, all with a spectacular ocean view. The Deck at 264 features fresh seafood, locally sourced ingredients, and coastal Californian dishes with an Italian twist. Whether a casual lunch, afternoon drinks, or dinner, patrons can rest assured they can dine and mingle in total comfort, rain or shine.
That is the beauty of a motorized louvered roof designed by Outdoor Elements. In this case, the automated roof is installed over the bar section of the deck, where it can be adjusted according to current weather. On those perfect California days or clear nights, the louvers are left open for all to enjoy. Integrated white LED channel lighting creates a cozy ambiance when Happy Hour is over, and the sun dips below the horizon.
Outdoor Restaurant Seating for All Seasons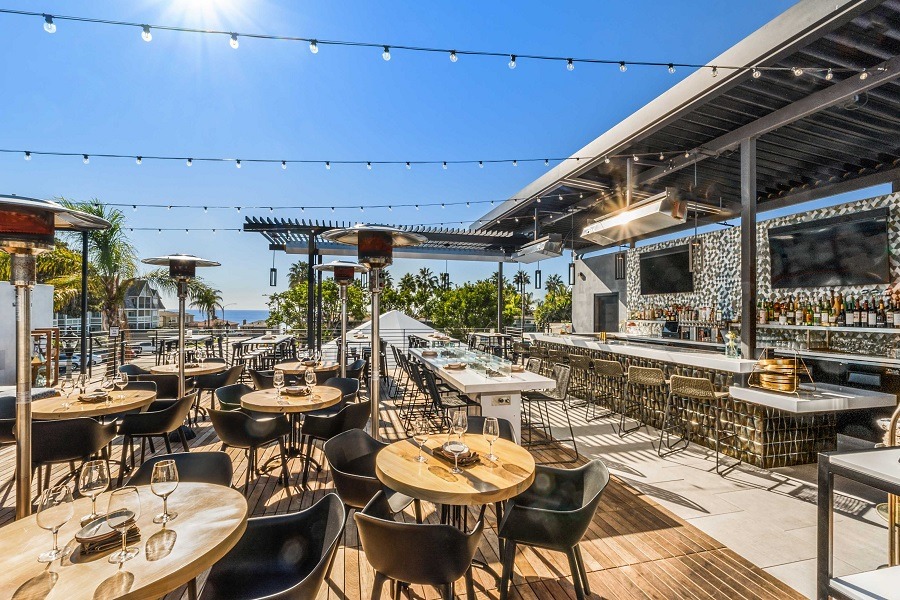 The Deck at 264 Fresco is now a popular spot for after-work gatherings and intimate celebrations year-round. It's a dynamic place where you can enjoy local musicians playing soul, pop, folk, and classic rock on weeknights and weekends.
Like other successful restaurateurs, Dinitto embraced the opportunity to expand the restaurant to the outdoors by adding the upper deck and made it more welcoming for customers. Adjustable louvers give patio diners a respite from the elements while expanding outdoor seating potential throughout the year.
Louvered Patio Roofs – A Smart Investment
The "new normal" for many means looking for ways to enjoy life's simple pleasures (like eating a delicious restaurant meal) but in a safe environment. Expanding outdoor seating capacity has allowed some restaurants to remain solvent or even flourish during the pandemic. A louvered roof system is a higher investment than some awnings or other temporary shade structures– but the return on investment is much greater over the long run.
A fully automated louvered roof provides restaurants and bars easy control over their outdoor spaces, allowing staff to open, close, or adjust the angle of the louvers with the push of a button. An Outdoor Elements patio roof is made with durable extruded aluminum. It can be customized in numerous ways with designer fans, privacy screens, heating elements, and different colors and finishes.
Create a Luxurious Open Air Dining Space
A covered restaurant patio with adjustable louvers can draw more customers and increase profits. Contact us to explore ideas for creating a luxurious open-air dining space for your restaurant or bar.
Other Featured Blog Posts