Protect Your Investment and Maximize Your Profitability
Stylish and Comfortable Outdoor Space
Outdoor Elements louvered roof systems help you control your environment and reduce your risk of losing business to unexpected weather. You can adapt your outdoor space for the comfort and delight of customers with features such as:
Lighting
Heaters
Fans
Screens
Misting Systems
A louvered roof can significantly increase your earnings by drawing in new clients year-round who are attracted to the hip and vibrant feeling of eating, drinking, and socializing outside. With many customizable features, an Outdoor Elements louvered roof system helps take your business to the next level.
A Designer's Perspective Enhances Your Environment
Create an Appealing Outdoor Environment Customers Will Love
Looking to increase viable outdoor seating or dining areas for your business? Outdoor Elements designs louvered roof systems for all kinds of outdoor commercial spaces. We collaborate with leading designers and architects to create solutions that meet the needs of your business model and your clientele. Outdoor Elements louvered roofs are meticulously engineered and custom designed to enhance the style of your space, including custom colors, corbels, accessories and more.
Add to the Ambiance of Your Space
Build a new clientele and give your loyal customers more reasons to visit by creating a comfortable, festive, and luxurious outdoor environment for your restaurant or bar.
Whether freestanding or building extensions, our louvered roofs seamlessly integrate your indoor and outdoor spaces and are a valuable investment in your commercial property.
Restaurants & Bar Patios
A covered restaurant patio with built-in lighting, cooling, and heating components promises unparalleled comfort for your patrons throughout the year. Our low-maintenance roofs are made with high-grade extruded aluminum, and the components are powder coated with a superior grade coating, making them highly resistant to corrosion. They are available in many designer colors and finishes for a luxurious open-air dining experience.
Hotel & Resort Patios
Protecting your guests and outdoor seating areas from sudden downpours and blazing sun is important, whether patrons are lounging poolside, having an alfresco brunch, or attending a special event. A covered hotel patio with motorized sun and rain protection provides refuge from the elements and adds an air of luxury to all places on your property where guests gather outdoors.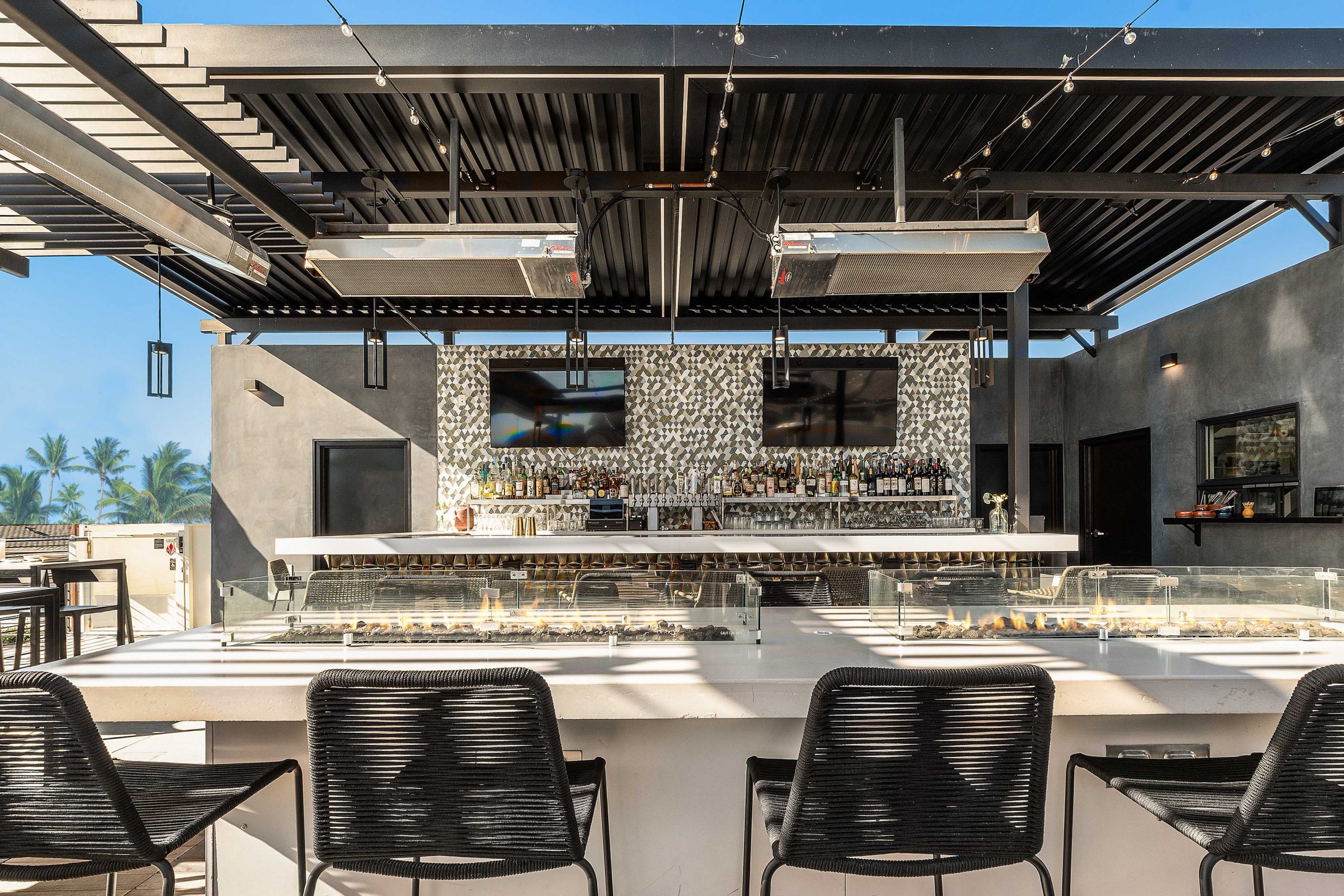 Our louvered roofs are meticulously designed for precision installation. We'll partner with you from concept to installation and you can rely on our expertise and emphasis on quality every step of the way. An experienced professional is necessary to ensure that your luxury louvered roof is properly installed. Our national dealer network in most large metropolitan areas is ready to assist with highly trained technicians. We back up our work with a 15-year limited manufacturer warranty.