Investing in Commercial Outdoor Spaces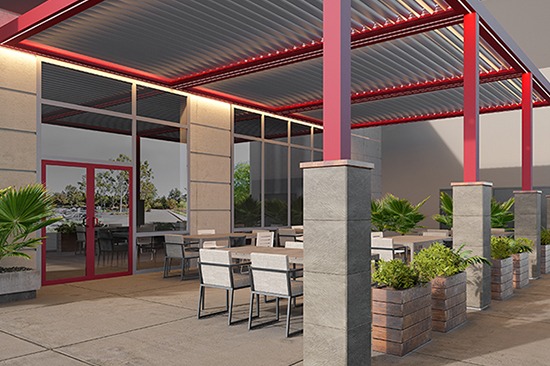 If you're a commercial business with a patio, making the most of your outdoor space will maximize your investment and increase profitability. A comfortable, natural setting can make all the difference in the world, whether you're negotiating a business deal with a client or entertaining patrons.
Outdoor Elements provides luxury louvered patio roofs that protect commercial investments and provide year-round comfort control in outdoor settings. You have the patio space – so protect your investment with a sensible-yet-spectacular rooftop that blends in with the surroundings, no matter the architectural style.
Commercial Louvered Roof Installation
Extend the season and the hours of the day with an expertly designed commercial louvered roof, which can be controlled using a remote or a smartphone app to:
Allow more sunlight to filter in and create a brighter space.
Provide more shade from the sun's hot rays
Keep patrons protected from rain and wind – either manually or using the built-in sensors.
Alter the temperature, warming the space with optional heaters or cooling down with optional fans.
Optional gutters keep heavy rains flowing away from the property.
Colors and styles can be customized to enhance any business aesthetic, adding beauty and value for years to come. Lighting add-ons allow the business to operate in the wee hours of the morning or well into the evening.
Who Invests in Louvered Roofs?
Business applications for louvered roofs include:
Bars
Breweries
Cafes
Colleges
Country clubs
Fitness centers
Golf clubs
Hotels
Parks
Pools
Resorts
Wineries
Protect Your Furniture and Other Investments from Sun, Wind, and Rain Damage
Commercial patio covers like retractable awnings and shades are not sturdy enough to withstand heavy rains and winds over the years. Outdoor Elements USA products made from durable aluminum and stainless steel are built to last, with a limited 10-year manufacturer warranty. Louvers are easy to maintain by simply rinsing with a garden hose and soft brush or cloth to remove any surface dirt. Detergent and trisodium phosphate can be used periodically for mildew removal. Best of all, patio furniture, pavers, plants, and décor will last longer once shielded from Mother Nature's extremes.
Discover How To Make Your Business More Profitable with Outdoor Elements USA
Outdoor Elements USA can help make your business more profitable. Unseasonable temperatures and sudden showers present challenges for businesses looking to keep occupancy rates and revenues consistent. Patrons will feel inspired using your outdoor space to the fullest when it has been designed as a comfortable setting year-round. Contact us.