Why you should add a Pergola to your Restaurant

Outdoor dining has always been on-trend. Creating a relaxing open-air space for patrons to sip cocktails and enjoy great food is one of the easiest ways to increase restaurant revenue.  A tasteful alfresco dining area not only adds curb appeal, but it also provides guests with more seating options-- and who doesn't love eating outside on a beautiful day?
That's good news for restaurateurs during temperate months when the weather cooperates, but how do you lure diners outside year-round? No matter what type of restaurant you run, a covered outdoor dining area is essential for customer comfort. When it comes to elevating the overall dining experience, your guests are looking beyond cuisine and service. They are looking for ambiance, amenities, and design that goes beyond your standard patio cover or shade structure.
Pergolas Increase Restaurant Value
Create a super-chic atmosphere for your restaurant patrons by installing an adjustable louvered pergola from Outdoor Elements.  With the touch of a button, you can rotate the louvers for the desired amount of shade, sunlight, and ventilation. If it sprinkles or rains, the roof automatically closes for superior protection.
The opportunity to incorporate a buzz-worthy, all-season outdoor dining area is always a worthwhile investment, whether you run a casual bistro, a craft brewery, or an upmarket restaurant.
How do pergolas increase restaurant value? By expanding seating capacity, creating a hip outdoor dining experience that attracts clientele, and drawing in passers-by who recognize a trendy hotspot when they see one. A pergola with a motorized roof also extends the outdoor dining season. Optional fans, heaters and screens keep guests comfortable when the temperatures dip while still providing privacy and ventilation.
A luxurious open-air dining experience is something that guests are likely to remember and share on social media. In addition, statistics show that outdoor seating can boost restaurant profits by at least 30 percent. And, of course, there is the return on investment at the time of resale.
Attract Customers with a Unique Dining Experience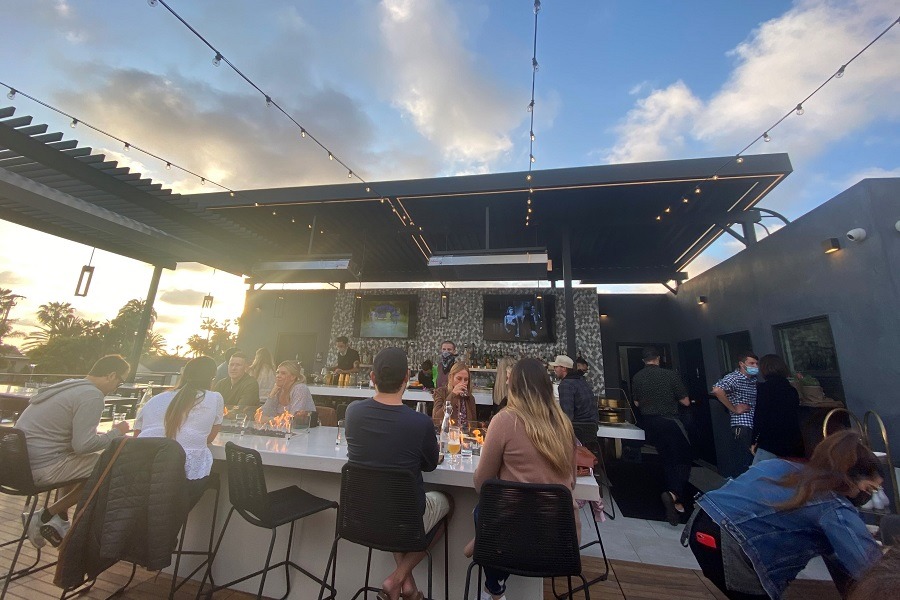 Outdoor Elements designs louvered pergola systems for all kinds of commercial eateries, from family-style restaurants and bars to sidewalk cafes. A unique outdoor dining experience generates positive buzz and fosters long-term sustainability.
Strengthen your brand and enhance profitability by adding exciting amenities to your covered dining area:
Brick pizza oven
Gas fire pit or table
Outdoor televisions to broadcast big games and events
Atmospheric and colored lighting
Speaker system
Heating and cooling systems
Increase Outdoor Dining Revenue with Outdoor Elements
A luxury louvered pergola by Outdoor Elements transforms outdoor restaurant spaces into sophisticated dining areas that are sleek, stylish, and comfortable in all types of weather.
A covered patio or deck not only enriches your customer's dining experience but maximizes profits from outdoor seating, even in the off-season or on rainy days.
Boost curb appeal, attract new customers and improve your bottom line with our high-quality louvered roof systems that feature numerous customizable features.  Automated privacy screens, misting systems, heaters, and designer fans are just some of the custom add-ons that are sure to impress your customers.
Contact us today to learn more
Realize the economic potential of your restaurant's untapped asset, whether it's a sidewalk, patio, or rooftop real estate. To learn more about commercial pergola design possibilities, please contact us today!