A Patio Cover Enhances Outdoor Dining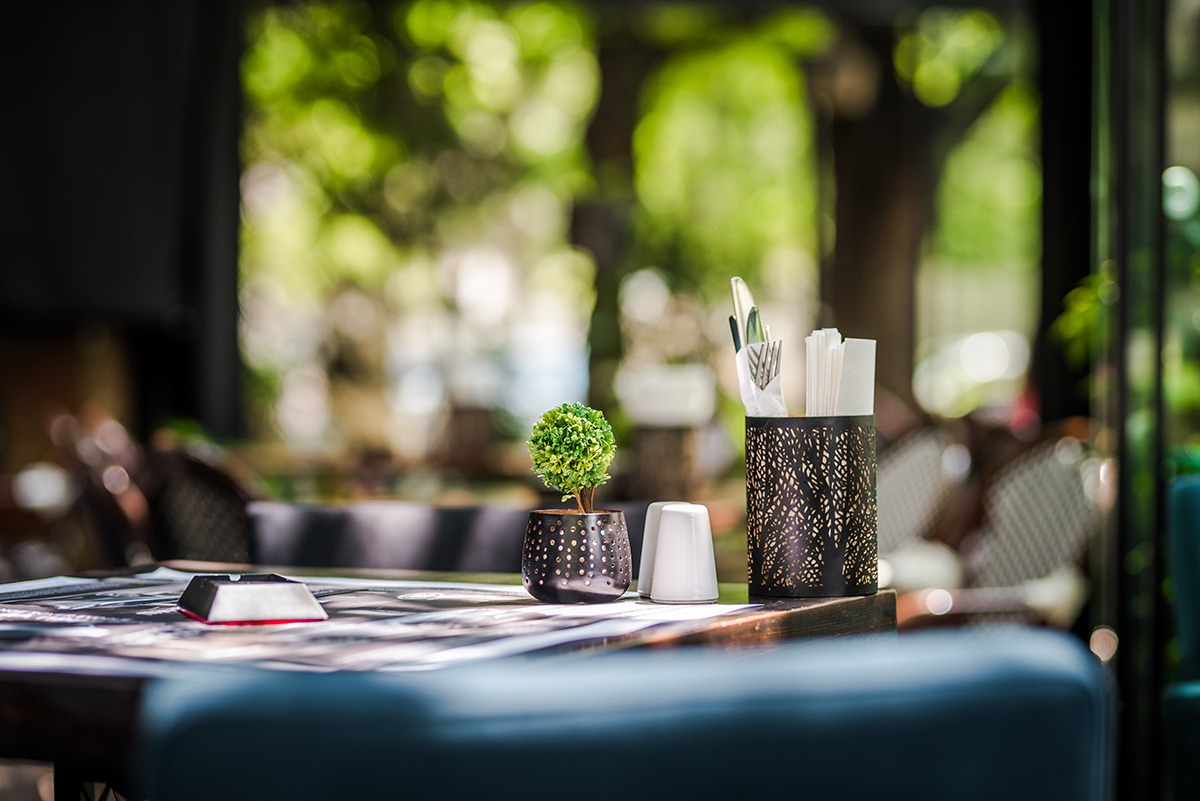 The demand for restaurant patio covers continues to trend as business owners seek to increase customer base and maximize profits. Other strategies include extended hours, expanded seating capacity, and remaining open off-season. To maintain the comfort of guests seated outdoors, your covered outdoor environment will likely require special features such as heating, cooling, and lighting elements. Outdoor Elements is a leading solution for commercial dining establishments. We build commercial patio covers with luxury louvered roofs and the sophisticated technology you need to accommodate patrons comfortably year-round.
Outdoor Restaurant Patio Ideas
Restaurant patio ideas vary considerably based on the existing layout of the space. A patio cover with a louvered roof is a favorite option among commercial contractors and designers. However, though your patio cover serves a practical function, your outdoor space should feel like an extension of the interior. The louvered roof is merely one aspect. You (with the help of your designer) bring the entrepreneurial magic to complete the space with decorative touches such as water features, greenery, artwork, tables capes, candlelight, and clever seating arrangements. Contact us directly for a list of contractors in your area who can help turn your ideas into an inviting outdoor space for visitors to return again and again. We'll build the louvers to frame and cover the patio, protect it from the elements, create the ambiance your guests expect, and keep you in business regardless of the weather forecast.
Louvered Patio Covers for Restaurants
Compared to other types of restaurant patio enclosures, a luxury louvered roof by Outdoor Elements offers:
Open-air dining – Retractable roofs create a more enclosed space, much like the indoors. Preserve the alfresco experience with adjustable louvers. Customize the patio roof to any aesthetic you like while maintaining an invigorating open-air vibe conducive to relaxation and socializing. We can match the existing architecture to create a seamless design and outdoor dining experience. Ask us about optional features such as side screens and privacy shades.
Easy built-to-last technology – Manual patio covers can get jammed or damaged with repeat use. The plastic or fabric covers are lucky to last the season. On the other hand, our louvered roofs are meticulously manufactured from high-grade powder-coated aluminum and stainless steel – a highly durable structure that comes with a 10-year limited warranty. Best of all, the louver controls are connected to a remote control or smartphone app for total ease of operation.
Versatility and comfort – Louvers can allow as much sunlight in or produce full shade by rotating. Optional additions include built-in heating components, fans, and task or mood lighting. The roofs come in a variety of custom colors and styles to match the surrounding environment seamlessly.
Low maintenance – Wood pergolas are beautiful, but they require a good deal of care. You'll need to routinely hose it down with a high water pressure sprayer, brush off persistent stains, bleach mildew spots, touch up splinters, and coat with a translucent oil-based stain every year. By contrast, louvered patio covers for restaurants require nothing more than an occasional rinse with water or trisodium phosphate and detergent to look their very best for years to come.
A fixed roof is a long-term investment you may be considering, but a louvered patio roof will offer unparalleled versatility, comfort, and control over your surroundings, rain or shine. On a hot day, your patrons will appreciate shade and a gentle fan breeze. Late afternoon light invites open louvers that bring in warmth from the fading glimmer of the sun. Later still, the space transitions once more to a heated, ambient-lit dining room under the stars. The right restaurant patio roof can completely transform a space from ordinary to opulent, attracting repeat clients, season after season.
Contact us to discuss your outdoor restaurant patio ideas with an experienced team of dream-makers.