Your home is stylish and sophisticated– an aesthetic reflection of your life. Now it's time to bring that same level of elegance to your outdoor space. At Outdoor Elements USA, we can help transform your backyard patio into a private oasis. If you've ever dreamed of creating a Pinterest-worthy outdoor space that is truly inspirational, you've come to the right place. A luxury pergola takes your average patio to the next level, creating a gorgeous outdoor retreat in which to entertain, dine, enjoy conversation, or relax with family and friends.
Bring luxury to your outdoor living
Whether you want a poolside shade structure or a pergola for alfresco meals, our team can help you cultivate an idyllic hideaway. Create an outdoor space where you can gaze up at the sky and adjust your level of shade or open up views with the touch of a button. Every luxury outdoor pergola is made to order and meticulously designed using cutting-edge technology and premium materials.
Designed to provide shelter for outdoor seating and lounging areas, conventional pergolas come with obvious limitations. Namely, fixed slats that cannot be opened or closed, leaving you at the mercy of the wind, rain, and strong UV rays. Now imagine having a luxurious pergola that gives you total control of your outdoor environment.
Our pergolas can be built as an attachment to your existing roof or as a free-standing structure and are 100 percent customizable, from post design and color palette to optional features like automatic privacy screens. A luxury pergola elevates the ambiance of your home and provides a seamless transition from indoor to outdoor living.
Shaded sanctuary for all seasons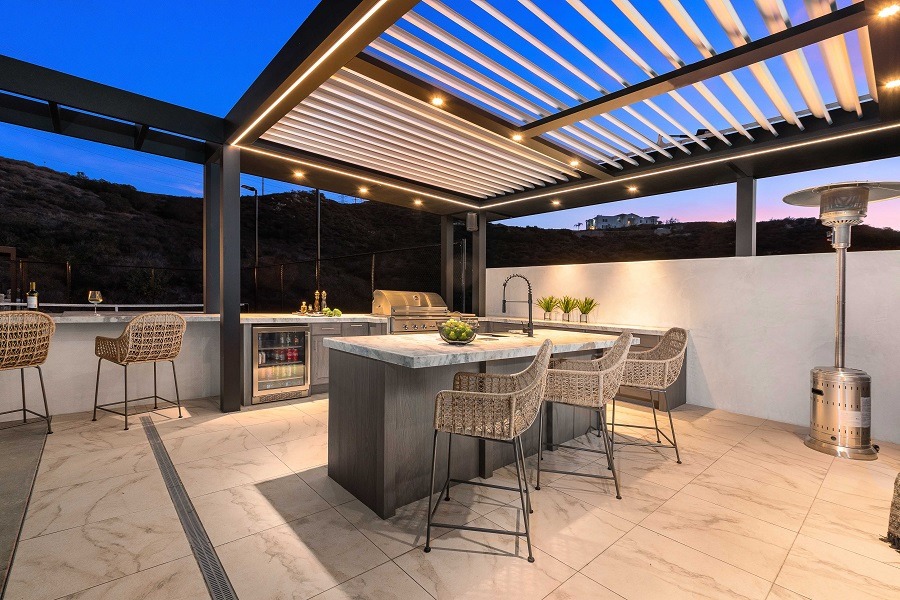 We take pride in the extraordinary quality and craftsmanship of our products. Each pergola features louvers that can be rotated 180 degrees with a smart app or remote control. There are even integrated sensors that shut the louvers if it starts to rain.
A luxury pergola can be crafted to fit any size space and promises endless possibilities. It could be the outdoor kitchen you've always dreamed of or peaceful meditation space.
With a vast selection of accessories and features, you can create a space that epitomizes the concept of luxury outdoor living. Designer fans, RGB colored LED uplights, and integrated heating components are just some of the ways you can bring customized comfort to your space.
Create your custom luxury outdoor pergola
Extend your outdoor living with a luxurious pergola designed and manufactured by Outdoor Elements. Contact us today to learn more about our innovative products and services.
Other Featured Blog Posts