Winter doesn't have to signal the final days of outdoor get-togethers, family meals, and alfresco entertaining. With a few design features and a bit of creativity, you can still host a backyard bash or catch up with friends. Consider these tips for upgrading your backyard patio for year-round enjoyment, especially when the temperatures drop.
Add Some Heat
A mug of hot coffee or tea is a wonderful treat on brisk winter nights, but neither will keep your guests warm. One of the best ways to extend your outdoor patio time is by incorporating a heat source near seating areas.
This could be a custom-built fireplace, an infrared heat lamp, a fire pit, or a portable propane heater. Imagine your guests relaxing around a trendy fire pit feeling perfectly toasty and content. There are plenty of options for heating outdoor decks and patios.. Ultimately, the best solution will depend on your needs and budget.
Create a Permanent Shelter
An open patio leaves you exposed to winter weather, but not when you install a louvered patio roof. Unlike traditional, solid roofing systems, a louvered roof is motorized and fully adjustable. On clear days or evenings, the louvers can be opened or closed– as desired. You can even customize your patio roof with built-in heating elements by Bromic or Infratech, add LED lights, and automated privacy screens that help block cold winds.
Ramp Up the Cozy Factor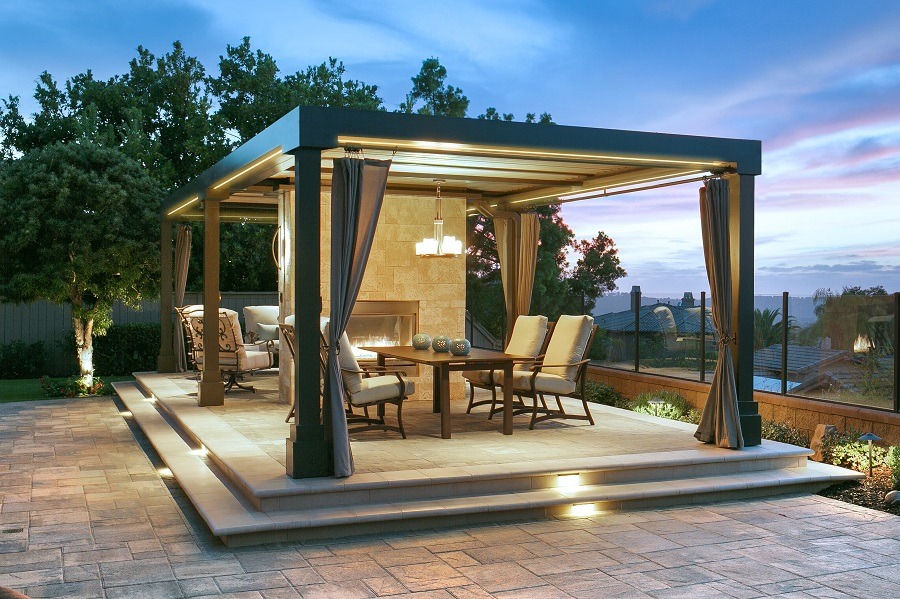 If chilly weather is in the forecast, you can increase the cozy factor by adding some plush cushioned furniture that holds heat well. If you have a portable heat lamp, arrange the seating, so it's close enough to the heater and invites guests to linger. The final touch for feeling bundled up is ensuring plenty of throws and blankets for snuggling when the chill sets in. Whether velvet, chunky knit, or faux fur, look for materials that bring richness and comfort during cooler weather.
Incorporate Greenery
When strategically placed, potted plants, trees, and greenery can help block wind and horizontal rain from your outdoor patio. Coniferous trees like evergreens are a great choice sincethey are low-maintenance and remain dormant in the winter while providing visual interest and weather protection. Consider these hardy winter plants for livening up your patio space: blue spruce, cypress, boxwood, ajuga, hens and chicks, or skyrocket juniper.
Maximize Patio Use During Winter Months
Louvered patio roofs are one of the most popular design elements for homeowners and businesses looking to maximize outdoor living throughout the year. Depending on your climate and location, you may want to consider optional features like motorized screens and integrated heating systems. Contact Outdoor Elements USA for more information about our state-of-the-art louvered roof systems for outdoor patios.
Other Featured Blog Posts