Spending time outside offers extensive benefits for children–from enhanced physical and mental health to a better appreciation for the environment. What is one of the best ways to encourage your kids to spend more time outside? Create a fun and safe outdoor play area in your backyard that they will love!
You don't need an entire jungle gym to keep your kids interested in outdoor play. Instead, here's how to build a fun outdoor space they will enjoy
Add Shady Areas for Sun-Filled Days
Shade is essential for kids playing outdoors, especially on summer days. As a result, cool, shady areas are a must-have to keep your kids safe, out of the sun, and free from sunburn.
Trees, umbrellas, pergolas, or other outdoor structures can provide shade. For example, our louvered patio roofs add a touch of luxury to your outdoor space while keeping your patio comfortable and protected from the sun, rain, and wind. In addition, our customizable pergolas offer full shade coverage on sunny days, so your kids can play outside in any season.
Create Opportunities for Active Play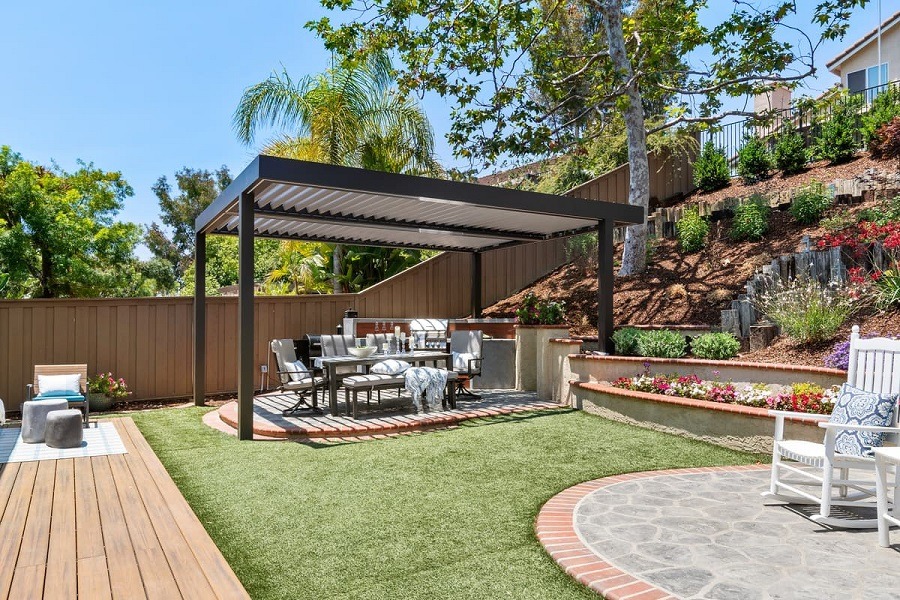 From preschool to adolescence, kids love spontaneous, self-directed activities, which are vital at every stage of development. To keep your kids healthy and encourage an active lifestyle, make sure to incorporate this in your outdoor play space.
If you're unsure where to start, consider toys and games that will keep your kids moving. For example, you might encourage your children to spend time on your outdoor swing set, play on the trampoline, or go swimming. Depending on your backyard space, you might invest in permanent equipment like slides and swings or age-friendly toys like scooters and jump ropes.
Child-Proof Your Outdoor Space
Once you've created the perfect play space for your kids, it's time to child-proof your outdoor area. For example, if you have a pool, installing a fence is essential to ensure children don't go into the pool without supervision. In addition, choosing rounded edges and smooth textures for your outdoor patio will help keep your children safe.
Along with a  louvered roof to protect from the sun, it's vital to consider the color of your outdoor space. Darker shades tend to absorb more of the sun's heat. Instead of darker colors like black and dark gray, opt for beige, oak, and lighter tones to keep kids cool.
Upgrade Your Outdoor Living Space
Outdoor play spaces can be fun for every age group, but outdoor time doesn't have to end after playtime. From innovative outdoor learning spaces to relaxing family dinners, outdoor living spaces create a defined sense of place and time without walls to stifle your creativity.
Our louvered patio roofs can be customized to fit your unique space so you can bring your vision to life. Create beautiful outdoor living spaces while providing safe, fun areas for your children.
Other Featured Blog Posts