With summertime in full swing, many property owners are rethinking ways to utilize backyard space and maximize outdoor enjoyment. Pergolas are a terrific solution to create partial shade over patios and decks while elevating aesthetics and ambiance.
Just like freestanding gazebos, playhouses, storage sheds, and detached carports, pergolas are generally considered an accessory structure– not permanent. An accessory structure, for residential purposes, is non-habitable. In other words, it is not used for permanent dwellings or sleeping quarters.
Accessory Structure Guidelines
Before installing a pergola, homeowners should check with their local municipality or zoning officials regarding rules and regulations since every state has different laws and requirements.
For example, some states define accessory structures as non-dwelling edifices with floor areas that do not surpass 120 square feet. In other states, pergolas can cover 200 square feet of ground space. The same guidelines applies to  walls. From finished floor to roofline, this height can range anywhere from 10 to 15 feet. Depending on the local ordinance, an accessory structure may not be air-conditioned or contain more than two plumbing fixtures.
Some cities do not permit accessory structures to cover built-in grills, electric fire pits, stovetops, ovens, or refrigerators. In this respect, an outdoor kitchen with a pergola roof may need a building permit depending on the home's specific location.
Building Permit Requirements Are Location Specific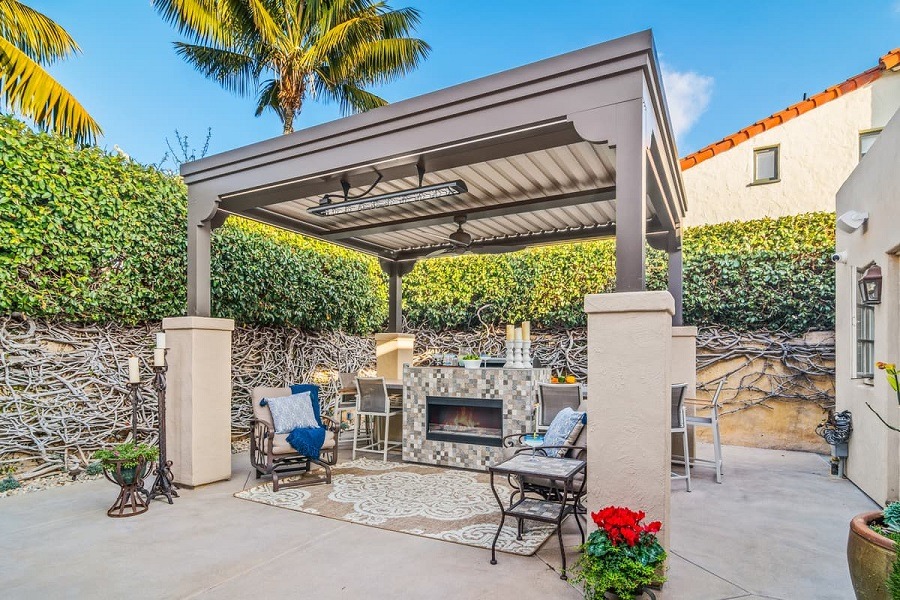 There is no hard and fast rule on building permits for pergolas sincethere are so many variables.
Getting a building permit is a relatively simple process, especially when you partner with Outdoor Elements USA. We work with commercial and residential clients across the nation, supplying luxury louvered pergolas that feature state-of-the-art technology and precision engineering. We also provide clients with site-specific engineering plans for faster and easier permitting.
Control Your Outdoor Environment & Comfort
Whether you're looking to revamp your existing pergola, create a covered yoga and meditation retreat, or transform an outdoor business space, our experts can help you design the best outdoor space for you.
The customization possibilities are endless. Tell us your vision or draw inspiration from our own team of designers and architects. Enjoy a modern louvered roof system with integrated LED lighting, rain gutters, and smart controls that promises almost year-round comfort and weather protection.
For more information or price estimates on our motorized louvered pergolas, please contact us today.
Other Featured Blog Posts