Relaxing under your backyard pergola shouldn't end when the sun goes down. There are plenty of ways to add some sparkle after dark. From hanging chandeliers to elegant roofs with integrated lighting, here are some exciting ways to bring a glow to your garden pergola.
Hanging Pendants or Chandeliers
If your pergola location is close to nearby outlets or has electrical access, you may want to consider adding a stylish chandelier or pendant lamp. However, since the fixture is somewhat exposed to the elements, it's best to stick with metals that are either powder coated or develop a beautiful patina with time.
Integrated Pergola Lights
Then there is the louvered pergola with integrated and energy-efficient LED lighting, which means all fixtures are hardwired into the framework during the manufacturing phase. The aesthetic is clean and sophisticated and offers many options for pergola lights and placement. Luxury louvers by Outdoor Elements feature a built-in LED channel that provides the perfect mood lighting to your outdoor space. With the touch of a button, you can switch to party mode and wow your guests with LED red, green, or blue ambient light.
LED Flameless Candles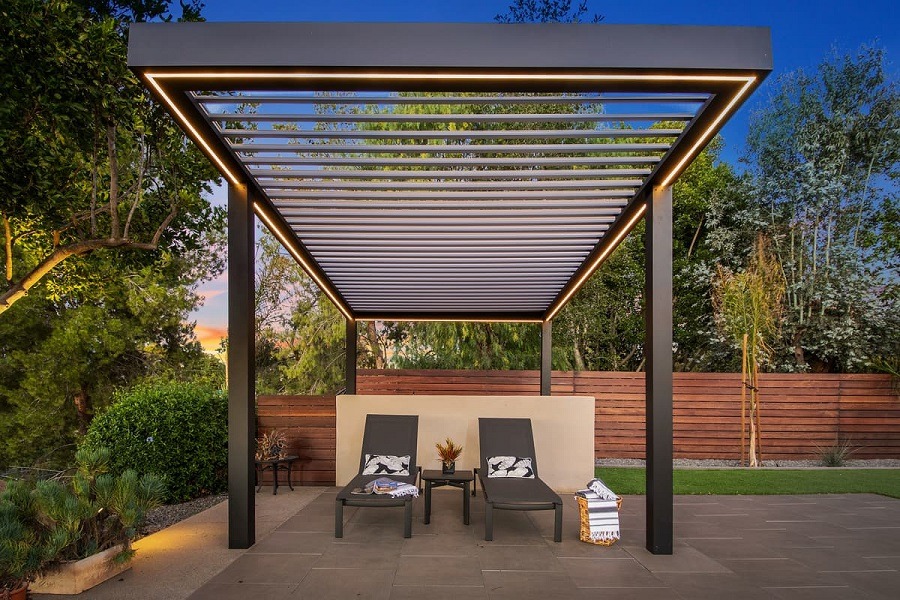 Embrace the romance of candlelight with realistic battery-operated LED candles. You won't have to worry about pets or kids knocking them over, and they can be clustered together for an inviting effect.
Mason Jars
Ramp up the cozy factor with mason jar lights. Place some mini LED fairy lights (battery-powered) in a clear mason jar for a pretty decorative look. Like LED candles, they don't give off much light, but they bring a welcoming glow.
Innovative Pergola Lighting
The right pergola lighting brings warmth and sets the mood for your outdoor experience. When it comes to exceptional quality, versatility, and style, you can depend on Outdoor Elements. Our patent-pending LED designs for louvered pergolas deliver a gorgeous canopy of illumination. When it comes to outdoor entertaining, lighting your pergola is a must. Find out more about our custom projects for homeowners. Contact us today!
Other Featured Blog Posts