The Best Louvered Roof Systems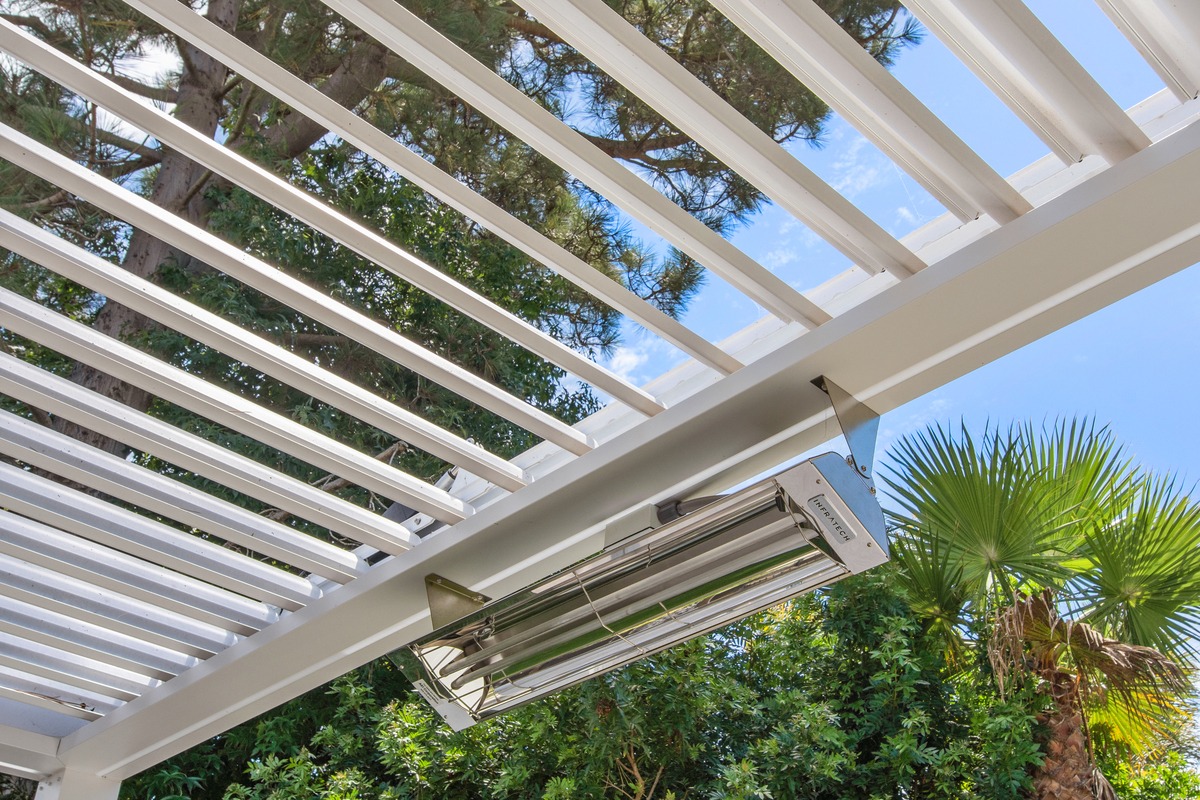 If you want to be able to enjoy your outdoor deck all year long, then louvered roof systems are the perfect solution. Simple yet innovative, louvered roofs will keep your patio comfortable and protected from sun, rain, and wind. They can also help open up the interior of your home or business to fresh air and sunlight, giving you a seamless connection to your natural surroundings. Sudden rain shower? Protect your outdoor furniture – or your guests – with a touch of a button. Create shade, or open the roof slats up to let in the light – the choice is up to you, since a louvered roof lets you adapt to shifting weather conditions instantly and easily. Expand the possibilities by creating an outdoor space perfect for barbecues, pool parties, quiet meditation, meetings, or just for some relaxing "you time." Louvered pergolas give you access to your own personal retreat, day or night, whatever the season.
Customized louvered roofs come in a variety of colors and materials to match the overall look of your home or commercial property, from traditional to ultra-modern and everything in between. Create a dramatic architectural focal point that brings your outdoor space alive! Enhance the value of your outdoor space by contacting Outdoor Elements today.
What Are Louvered Roof Systems?
Louvered roofs are made with horizontal louvers, that are opened or closed as needed to protect your patio or other outdoor space from rain or sunlight. Louvers can easily be rotated, making them simple to adjust to keep your outdoor area safe, cool, and dry in any weather. The largest louvered roof unit is generally 12' wide by 22' long, though for bigger spaces or to meet unique design needs, multiple louvered patio covers can be linked together – though you still have the option to operate them individually. In the case of rain, the closed louver position diverts the water into channels that flow over the lip and onto the ground.
What Are the Benefits of a Louvered Roof System?
Whether you have recently purchased a home or are remodeling your current one, louvered roofs have a great deal to offer. They make it easier for you to spend time outdoors and get the most out of your backyard or patio space. Instead of waiting for the perfect day, you can enjoy your deck virtually any day of the year. These are some of the other advantages of a louvered roof:
Louvered awnings provide shade for your deck.
Louvered roofs can be adjusted to provide you with as much shade as you need, no matter what time of day it is. Enjoy nature and fresh air while protecting your skin from the sun's harsh UV rays—while also keeping your patio surfaces and furniture safe from rain and sun damage.
A louvered patio cover offers protection from the rain.
Enjoy the beauty of a light summer rain? You can appreciate it even more if you're not getting soaked! Having a louvered roof means that you can quickly adjust your louvers to keep your deck dry. In fact, your roof's integrated gutter system can even serve to channel rainwater away from your roof, so that it won't damage your deck.
Louvered roof systems offer greater privacy.
A louvered roof system can shield your deck from your neighbors' view, providing you with enhanced privacy for your outdoor living area. When the louvers are closed, your roof can even muffle outdoor sound and help to keep your patio a peaceful, private space.
Louvered pergolas can keep your patio cool.
When your roof's slats block out the sun, they're also partially blocking heat. Thus, you can keep your deck a cool, comfortable place even when the temperature starts to soar. If you'd like to improve the airflow in your outdoor space, you can adjust the roof's slats to provide you with a breeze.
Louvered roof systems can help increase the value of your home or business.
If you want to make your outdoor space truly luxurious, then a louvered roof can be the perfect touch, helping to transform your patio deck into one of your most outstanding features. If you decide to sell your home or commercial property in the future, then an investment in a louvered roof system can be a terrific selling point.
Call Today to Start Customizing Your Own Louvered Roof System
If you're looking for the perfect louvered roofs for your patio deck, then it's time to contact Outdoor Elements. Our roofs are both practical and attractive, with a sleek design that is sure to complement the look of any home or commercial property. We use only high-quality materials to make our roofs, so you can count on them to endure for a long time. If you're looking for peace of mind, then you can always put your trust in our products!
Contact us today to learn more about what a customized louvered roof from Outdoor Elements can do for your outdoor space. You can reach us through our online form or by calling (855) 430-8722.