Skyview Pergolas Let the Sun Shine In
Outdoor Elements Skyview Pergolas give you all the luxury, quality, and durability of our Signature line with the added benefit of natural simplicity. Skyview Pergolas have no motor and no automatic adjustment for wind or rain, leaving the roof beams in the same position at all times.
Skyview Pergolas make a design statement in your outdoor living space and bring a sense of modern style to your outdoor relaxing and entertaining. Imagine your backyard as an inviting retreat to lounge by the pool, practice yoga outside, or invite friends and family for cocktails under the stars. A Skyview Pergola expands the indoor/outdoor living possibilities for your home, making your space feel open, rejuvenating, and connected to nature.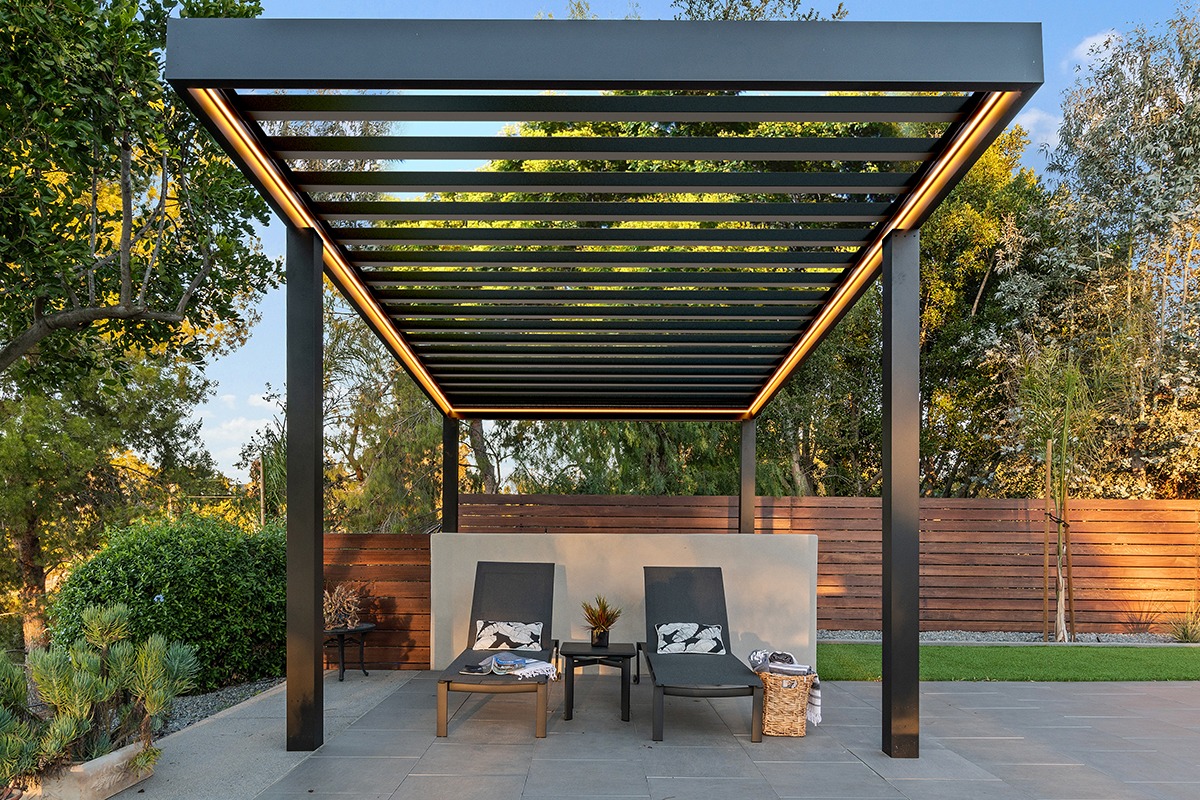 Customize Your Skyview Pergola with State-of-the-Art Features

Optional Innovative lighting: Integrated LED, LED Colors RGB, LED post lights, Recessed LED Lights - See Our Lighting Options
An array of classic and designer colors - See Our Color Options
Controlled using any smart device, with our custom app or with our proprietary remote control
Custom built for you in any shape or style
Motorized screens controlled with Somfy smart control
Professionally installed heating systems
Designer fans and misting systems
Personalize your Skyview Pergola to match the existing design and style of your home or business with corbels, post wraps, and cantilever upgrade options.
Benefits of Our Skyview Pergolas

Unlike other solutions such as cloth awnings or wooden pergolas, our Skyview Pergolas are crafted from powder coated aluminum, offering superior quality and durability.
Our high quality materials give you a beautiful structure that will also standup to weather and resist corrosion
Skyview Pergolas block more heat than their cloth counterparts, providing a minimum of 60% shade
In addition to your ability to choose a custom size and shape, Skyview Pergolas are also available in many standard sizes that you can select from quickly and easily