Retreat in Your Own Backyard with a Luxurious Outside Space
Imagine a serene shelter in your own backyard with all the comforts you would find indoors, from heating and cooling to lighting and shade. An Outdoor Elements luxury louvered roof expands the possibilities for relaxing and entertaining outside with a highly-customized style that's all your own.
Connecting with nature calms the mind and is good for overall wellness. Entertaining outdoors enhances the enjoyment of beautiful natural surroundings. Whichever mood you're in, your space with an Outdoor Elements luxury louvered roof can be a peaceful private retreat or a dynamic party center perfect for grilling and cocktails under glamorous lighting.
Expand Your Home to Its Full Potential
Whether for relaxation, family meals, or entertaining, a well-designed residential outdoor space maximizes your home's potential, and its value. If you are thinking of transforming your backyard, we can help you create a space that becomes a natural extension of your home. With the state-of-the-art engineering and design we offer, your home will feel more grand, welcoming, and inspiring.
Imagine relaxing in your backyard day or night and sharing your space with guests for afternoon cookouts or evening cocktails. With an Outdoor Elements louvered roof, your home becomes a place without limits - a central gathering point for family, friends, and neighbors or a private retreat just for you.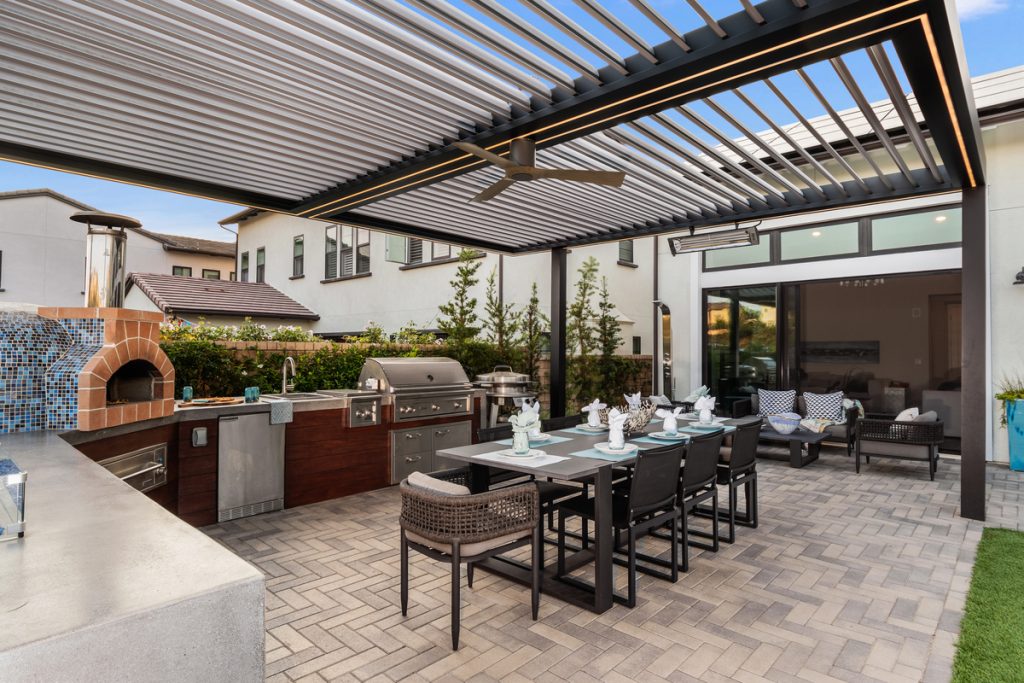 A beautiful outdoor living space is more than just an extension of your home – it is a private oasis where you can relax with family and friends while enjoying the tranquility of your natural surroundings. Our team can help you create a seamless aesthetic for your outdoor living room with numerous customization options.
An outdoor kitchen with a louvered roof brings an element of luxury to your home and lets you enjoy alfresco entertainment and dining year-round. Ideal for entertaining large groups, cocktail parties, and cooking family dinners, this culinary amenity can be outfitted with gas ranges, pizza ovens, refrigerators, serving stations, and other components for easy meal prep and serving.
Feasting al fresco is always a joy when you can dial in the right amount of sun or shade, and even in the rain. Enjoy languorous meals in the comfort of a covered dining room year-round.
Alfresco Entertaining Year-round
The weather will never hamper your party plans when you have a louvered roof over your guests' heads. Take dining outside and  backyard entertaining to the next level by creating a stylish space that speaks to your personal aesthetics. Our roofing system's automatic rain and wind sensors mean you can host cookouts, cocktail parties, birthday celebrations, and other social events in the comfort of your backyard without worrying about having a back-up plan. Nothing adds to the coziness of an evening party like an outdoor fire pit lounge where you can gaze at the stars, sip wine, and catch up with friends.
Poolside and Deck Pergola
Enjoy as much direct sun or cool shade you desire with an adjustable louvered roof to cover your pool deck. Depending on the layout of your backyard and pool set up, you can design a freestanding pergola over a pool or build the top out over your patio as an extension of the house. With your elegant, weather-proof outdoor oasis, you can indulge in long, lazy pool days as often as you like.
Tap into the restorative powers of nature by creating an outside yoga and meditation retreat right in your backyard. Create a peaceful space for quiet contemplation, sun salutations, and nurturing your physical and spiritual well-being. Welcome more serenity and balance in your life with a home yoga studio that is custom designed for you.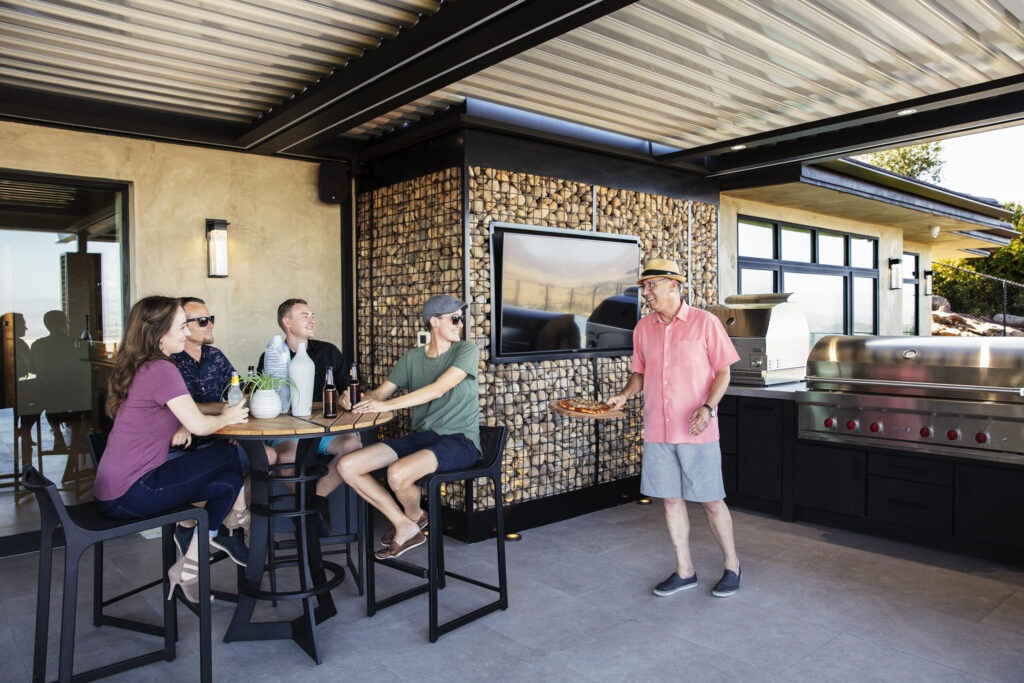 Boost Creativity Working Outdoors
Studies have shown that adding a single plant to your indoor workspace can boost creativity, so imagine what an outdoor home office can do in terms of inspiration and productivity. Fresh air and exposure to nature reduce fatigue and increase energy levels, and with our automated louvered roof systems, you can work surrounded by greenery, rain or shine.
Outdoor Learning Environment
Outdoor Elements louvered roofs make for a motivating outdoor learning space for children and students of all ages. Built-in technology offers worry-free weather protection, and your homeschooling environment can be enhanced with optional fans and integrated heating components.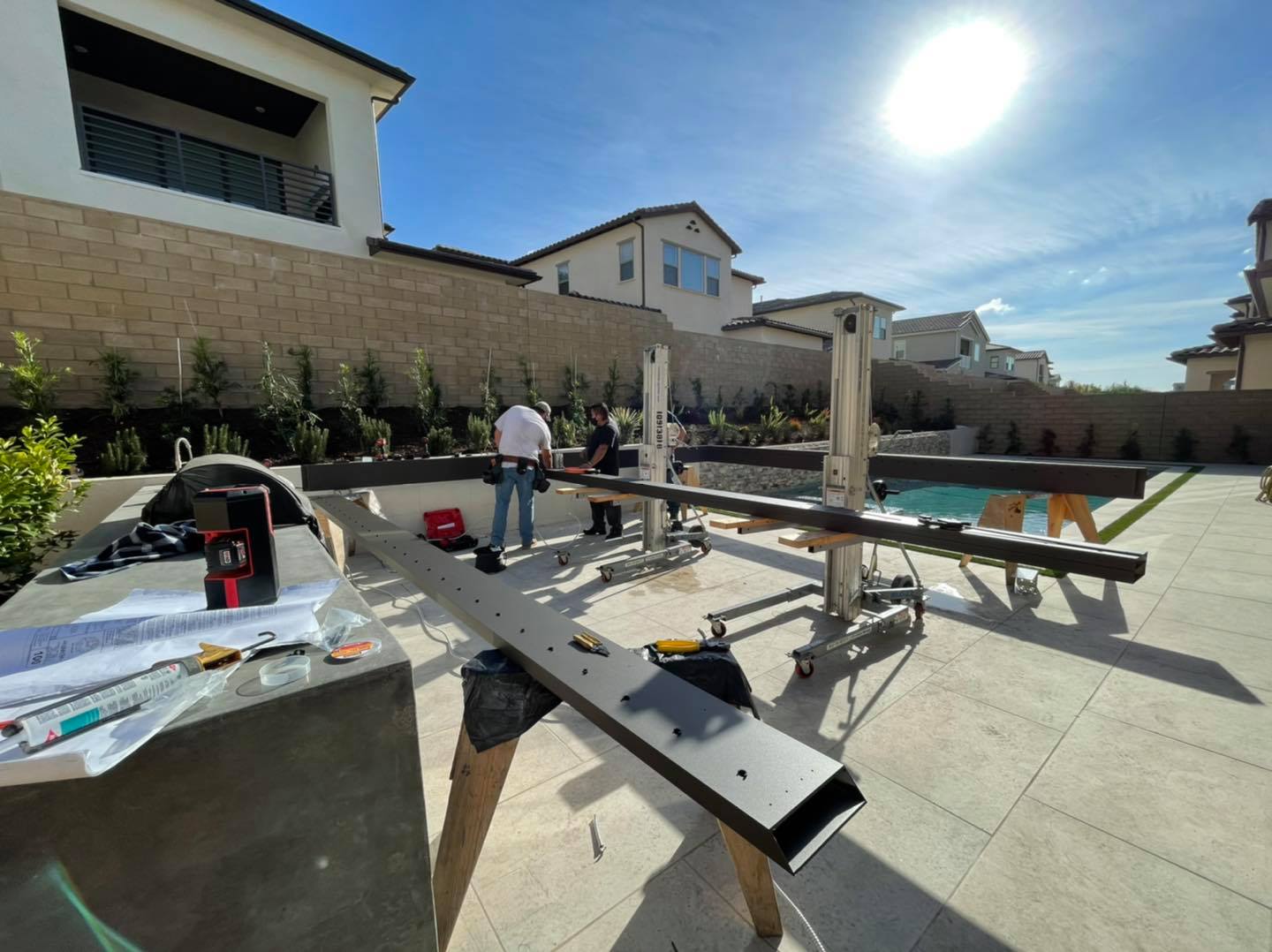 Our louvered patio roofs are meticulously designed for precision installation. We'll partner with you from concept to installation and you can rely on our expertise and emphasis on quality every step of the way. An experienced professional is necessary to ensure that your custom louvered patio cover is properly installed. Our national dealer network in most large metropolitan areas is ready to assist with highly trained technicians. We back up our work with a 10-year limited manufacturer warranty.