July is just around the corner, and climbing temperatures can limit outdoor time with friends and family. Consider installing an outdoor ceiling fan if you're avoiding  summer fun because of hot weather. Like their indoor counterparts, they offer many benefits, and the best part is that you'll never have to compromise well-deserved downtime on your patio or deck. They are also the perfect way to keep guests cool in outdoor seating areas for commercial properties.
Consider these advantages of adding a ceiling fan to your outdoor space.
Air Circulation = Cooling Breezes
Outdoor ceiling fans pack a lot of punch under your covered patio or pergola space. They create a refreshing breeze to keep you cool,extending your outdoor living enjoyment throughout the warmer months without having to  worry about family or guests overheating.
Aesthetic Appeal
Outdoor-rated ceiling fans have come a long way in terms of aesthetics. You can choose from a variety of colors, styles, and finishes to complement your outdoor space. Think clean metallic accents, weathered wood blades, and sleek designs that will coordinate seamlessly with your porch or patio. A beautiful ceiling fan can become the focal point of an outdoor seating or dining area.
Additional Lighting
Many models of outdoor ceiling fans are equipped with integrated LED lights featuring clear or frosted glass enclosures. This added illumination can ensure the party keeps going well after sunset.
Extra Pest Protection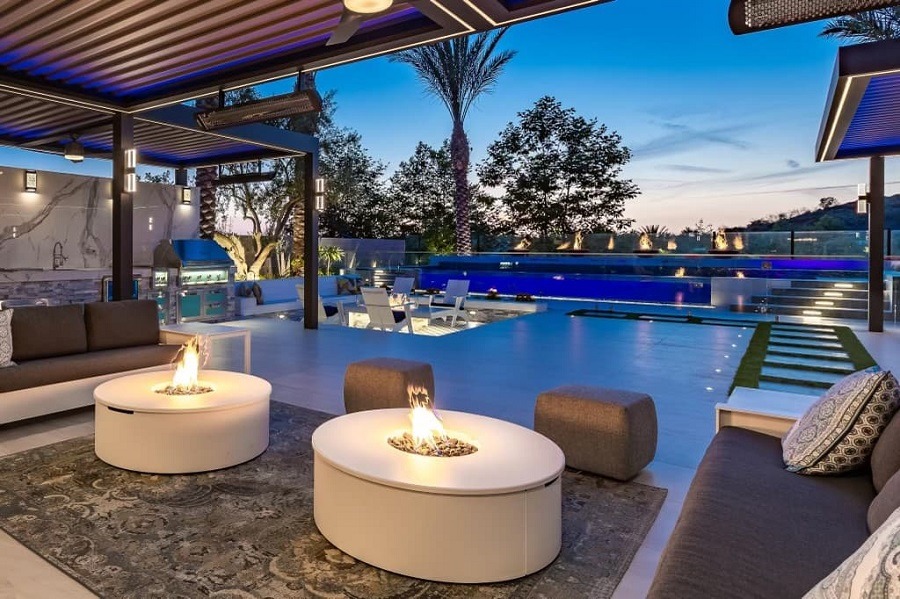 Mosquitos and flying insects are more prevalent in spring and summer. The air movement created by ceiling fans keeps buzzing pests away for a more comfortable soirée. Imagine a year-round patio space that is virtually bug-free!
Great for Outdoor Entertaining
In terms of outdoor entertaining, they bring both style and functionality. Decorative ceiling fans lend a chic ambiance to patio spaces while creating fresh breezes that keep you and your loved ones  comfortable and ready for fun.
Durability
Outdoor ceiling fans are manufactured with materials designed to withstand moisture and partial exposure to the elements. Most models for covered patios and pergolas are "damp-rated," so the components won't rust or warp with time and can be enjoyed for years to come
Safer For Young Children
Compared to pedestal fans or standalone floor models, ceiling fans are safer for households with small children. Mounted on the ceiling, these fans are out of reach of curious little fingers. Enjoy constant air flow under your patio without worrying about potential hazards for your little ones.
Elevate Your Patio With an Outdoor Ceiling Fan
Extend your outdoor living with an Outdoor Elements louvered roof system with a state-of-the-art cooling system. Our experts can help you customize a patio cover with ceiling fans that elevates your outdoor living experience and enjoyment for years.
Create a seamless connection between your indoor and outdoor space. Our designer fans are fully integrated within the louvered roof for an elegant, streamlined look and are corrosion resistant. For more information about our innovative products, reach out online or call us today!
Other Featured Blog Posts