Remote work is here to stay. According to a 2022 survey, more than 61 percent of Americans are working from home out of choice, not necessity. Whether it's a better work-life balance or increased productivity, there are plenty of advantages of working from home – especially when you're surrounded by the beauty of nature.
If you are new to telecommuting, or are looking to revamp your current set-up, we have some great tips for creating an outside home office that is as inspiring as it is practical.
Create a Permanent Shelter with a Louvered Patio Roof
When setting up an outside office in your backyard or patio space, you'll need to consider sun and weather protection. An umbrella or shade  may work for a couple of hours a day, but it's far from a permanent solution. You need a protected spot where both you and your devices are protected from UV rays, heat, rain and the sun's glare.
One of the easiest ways to create a conducive outdoor office space that is functional during rain or shine is by installing a louvered patio cover by Outdoor Elements. Our louvered roofs can be a freestanding pergola structure or attached to the side of your home to accommodate the existing layout.
With a motorized patio roof, you have total control over your office environment thanks to the louvers that can rotate  140 degrees. Create a space with maximum comfort by adjusting your level of shade with the touch of a button,  adding fans, automated screens, heating and lighting as needed.
Determine Electrical Availability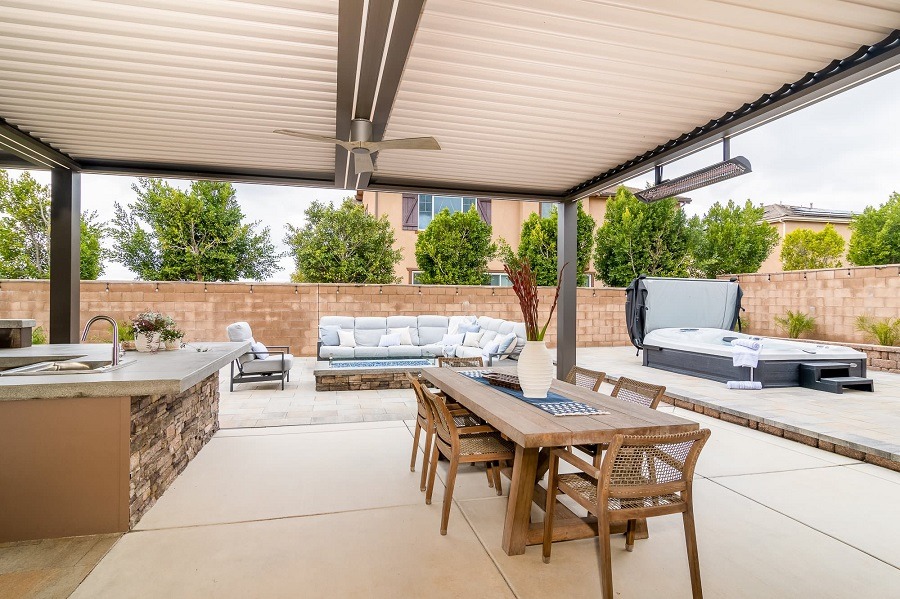 If an existing structure like a shed is being used, make sure that electricity is either in place or can be connected by a professional. Good lighting shouldn't be overlooked, especially if you will be using the space after dusk. Invest in lighting that makes the area feel energized and ready for productivity.
Don't Forget Ergonomics
Even though you're surrounded by fresh air and nature, an outdoor home office shouldn't skimp on comfortable furniture with proper ergonomics. When you're spending 8+ hours at the computer, you want a chair and desk that are adjustable and promote good posture. Small pieces of décor that express your style can make your home office a more welcoming and positive place to be in and encourage accomplishing tasks.
Minimize Distractions
A backyard work environment allows some privacy from children and pets, but the great outdoors can have its own distractions – as pleasant as they may be. Noise-canceling headphones are one solution, or you can opt for soothing background music, courtesy of a Bluetooth speaker. Installing automated screens in your patio cover can create a more enclosed space with privacy from neighbors or other family members enjoying your backyard.
Get a WiFi Extender
Every outdoor home office needs a strong and stable internet connection. If the office is too far from your current router, consider getting a WiFi extender, also called a wireless repeater, that will provide stellar coverage where you need it most.
Customize Your Outside Home Office
Our backyard patio roofs can be customized to fit your space and needs no matter what your work-from-home situation is like. Take advantage of your outdoor space amidst the changing daylight and weather while keeping your work supplies safe from the elements.
Contact Outdoor Elements for help designing the backyard home office of your dreams!
Other Featured Blog Posts