Dining and entertaining outdoors are among the chief joys of beautiful weather, whatever the season. An outdoor kitchen with a patio roof connects the interior and exterior of the home, letting you take part in the entertainment as you prep meals and drinks with your family and guests.
There is a rising demand for luxe outdoor kitchens, equipped with all the essentials.
An Outdoor Kitchen for all Seasons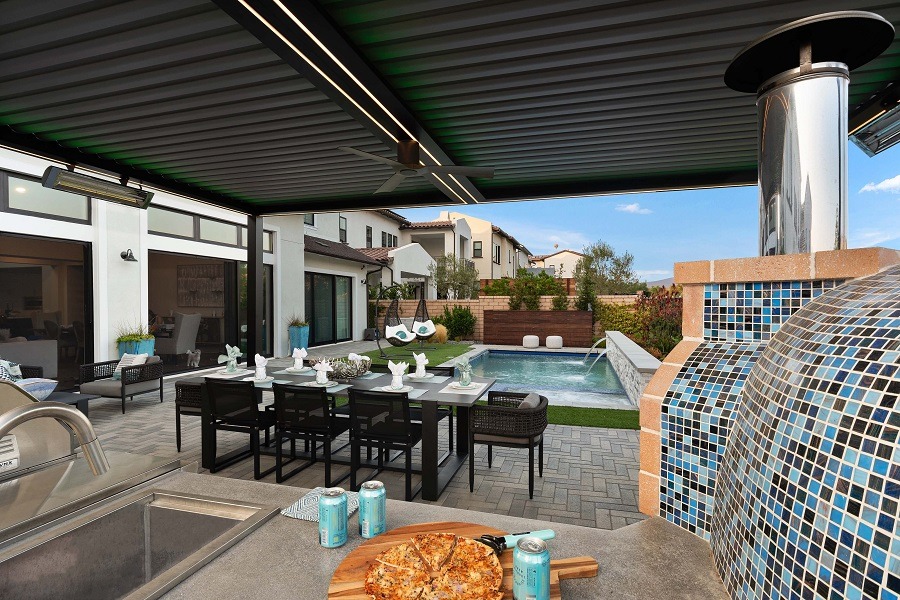 This spectacular project highlights the many possibilities of having a functional  kitchen on the patio. By expanding your kitchen to the outdoors, cooking  and entertaining by the pool or in the backyard can be savored and enjoyed. Ideal for the aspiring home chef, this alfresco kitchen is the place for socializing, family gatherings, cocktail hour, game night, and so much more.
With a motorized louvered roof that provides on-demand weather protection, you can turn your backyard patio into a home chef's dream. An artisan pizza oven with warming drawers is just one of the amenities this kitchen project included to encourage family gatherings and bonding time.
Imagine searing juicy steaks on a built-in BBQ grill or preparing vegetables on the  flattop.. Nestled under a 22-foot roof with adjustable gray louvers, this patio kitchen was built for a family who treasures outdoor living and spending quality time with friends and loved ones amidst their peaceful backyard setting.
This outdoor kitchen is fully equipped with a free-standing gas grill, pizza oven with sparkling mosaic tiles, mini-fridge, ample prep space, and sleek dining furniture. Changing temperatures and rainfall don't hamper plans for this outdoor space, which includes:
Adjustable louvered roof with weather sensors and remote control
Louvered roof with an innovative built-in LED channel and RGB lighting
Graphite weathered gray ceiling fan
Infratech heaters that blend seamlessly with the decor
Versatile Space for Outdoor Living
Whether you are a culinary enthusiast or just appreciate the pleasures of entertaining under the open sky, Outdoor Elements USA can help make your backyard kitchen the focal point of your property. Host family dinners, intimate gatherings, or just lounge with the kids in a comfortable and beautiful environment that can be customized for optimal ambiance.
Our state-of-the-art manufacturing and engineering allow us to create the outdoor kitchen you've always wanted, in any size or shape. Contact us today for more information on our luxury roof systems for residential properties.
Other Featured Blog Posts