Luxurious patio pergolas take advantage of unused outdoor spaces and keep customers coming back for more. Comfortable alfresco seating makes a great first impression—it helps businesses stay ahead of the curve in an increasingly competitive market.
Create a Stylish & Comfortable Outdoor Environment
Curb appeal matters whether you run a restaurant, bar, bistro, or hotel. It's one of your most important marketing tools that can help boost foot traffic and spark positive social media buzz. A stylish outdoor pergola brimming with happy guests is the best advertising around.
The exterior of your commercial property plays a huge role in this equation. When it comes to making significant returns on your investment, more businesses are turning to a custom patio pergola from Outdoor Elements.
Create a sophisticated outdoor environment where patrons can chat, dine, and relax in the open air. A patio pergola provides refuge from the sun, rain, and wind and offers a comfortable seating area that can be enjoyed in almost any weather.
Fulfill the potential of unused outdoor areas by offering guests an inviting place to dine and socialize. Boasting the latest technology, louvered patio pergolas deliver shelter and shade when needed but won't block the stunning views or cool breezes on beautiful days. Customers have always loved outdoor dining, from rooftop lounges and sidewalk tables to quaint garden terraces.
Spending time outside is linked to many health benefits. Studies have shown that being outdoors helps lower blood pressure, reduce stress levels, and improve focus. Considering the average American spends 90 percent of their time inside, alfresco seating provides much-needed opportunities to relax and unwind.
Increase Capacity for a Healthier Bottom Line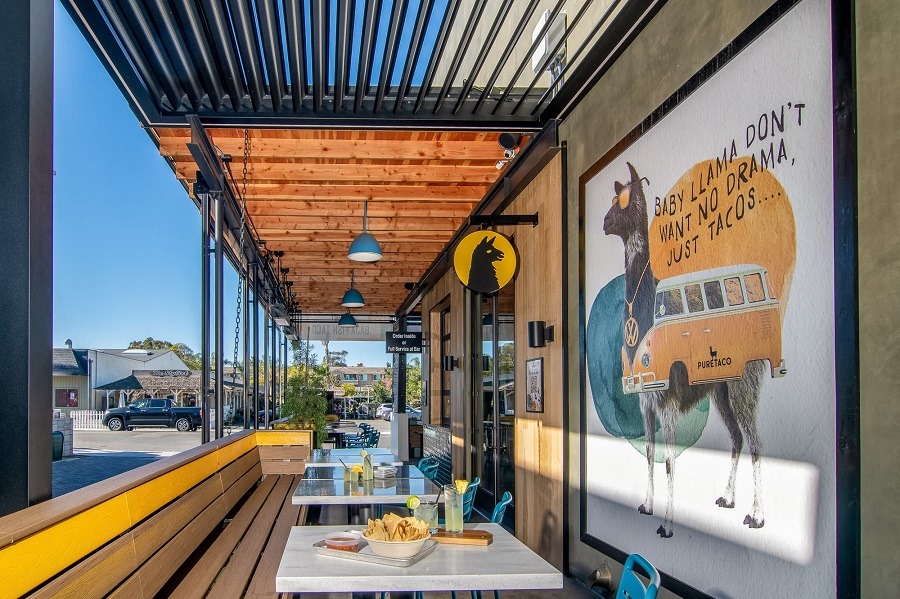 Sunshine, fresh air, and protection from inclement weather are wonderful enticements for potential customers, but let's focus on the bottom line. A deluxe patio pergola can also yield a substantial increase in revenue.  By increasing available seating capacity, you can accommodate more guests and offer them a choice of either indoor or outdoor ambiance.
A state-of-the-art patio pergola transforms your outdoor commercial space into a luxurious open-air environment, and these structures can be personalized to provide year-round use. In addition, there are optional features like built-in heaters, LED lighting, designer fans, and privacy screens.
Our pergolas are designed and built to accommodate any size space and can be customized to complement existing architectural design.
Transform Your Space with a Custom Patio Pergola
If you're interested in transforming your commercial patio space, contact us today! Outdoor Elements USA is a national company with dealers in most large metro areas, and all of our products are backed by a 10-year manufacturer warranty.
Other Featured Blog Posts