For optimal morning and afternoon shade coverage, it's best to ensure a traditional pergola's beams orient north and south, with an angle toward the east.
The easiest way to do this is by first identifying true north. With pergola rafters running perpendicular to the sun's trajectory across the sky, you'll get longer shadows under the structure.  If the pergola beams are running east to west – similar to the sun's journey across the sky – the shade coverage will be minimal.
Choosing the best pergola orientation
A lot will depend on your exact location and your goals for putting up a backyard pergola. Some people want full sunlight during the cooler winter months, while others are focused on protecting against harsh rays during the summer. Keep in mind that there are many different pergola rafter widths, lengths, and configurations that can impact the final design and orientation.
When sprucing up a backyard, consider how a pergola can complement the existing landscape. Flanked by leafy trees or large shrubs, pergolas can blend in with the natural surroundings, and the extra shade from existing foliage can be a huge relief during the height of summer.
Attached to your home, pergolas promise an elegant transition from indoors to outdoor living space. These timeless structures can also be freestanding, allowing for strategic placement and orientation. Take advantage of beautiful garden views, create a focal point in your yard, or add a comfortable outdoor seating and dining area.
The right structure for your outdoor living space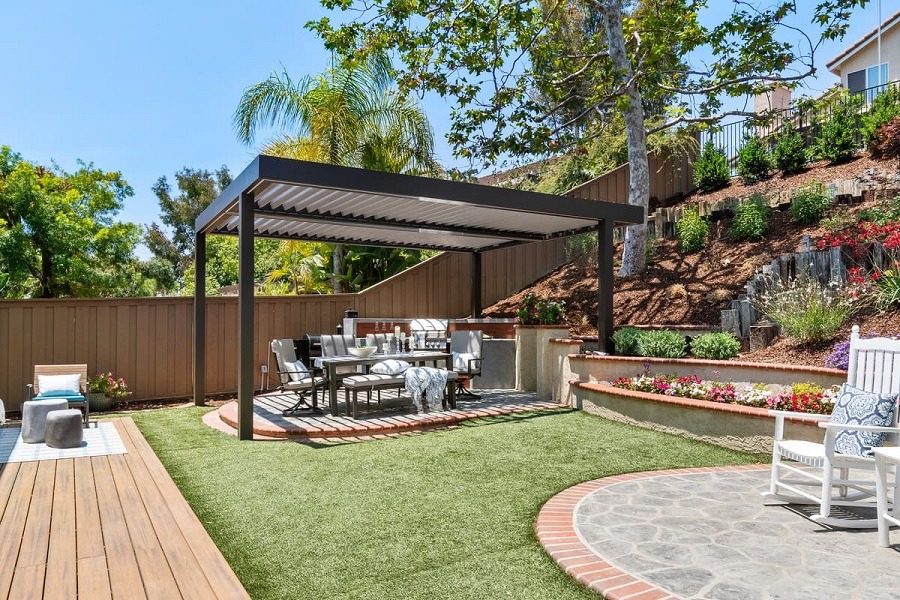 Traditional pergolas are open-air affairs that typically feature latticed roofs. As such, they provide limited protection from the elements, regardless of which direction they face. If you want to expand outdoor living potential, it's worth considering a more modern pergola with an automated louvered roof. In addition to providing visual interest, these systems are fully adjustable, keeping your outdoor space cool, dry, and protected throughout the seasons.
Built-in sensors automatically respond to wind and water by closing the pergola louvers. This means you never have to worry about outdoor furniture or décor getting ruined by a sudden shower.  Depending on the angle of the sun, and your preferences, the slats can be rotated up to 180 degrees for customized comfort.
Custom pergola design and installation
When it comes to choosing the right structure and pergola direction for your space, look no further than Outdoor Elements USA. Our veteran team of architects and designers works one-on-one with customers to bring your vision to life with state-of-the-art louvered roofs for homes and businesses. From custom size finishes to colors and orientation, our professionals are here to help every step of the way. Site-specific engineering packages make the process simple and stress-free.
Give us a call at (855) 430-8722 for more information.
Other Featured Blog Posts