The color of your pergola can significantly impact the design of your outdoor living space. The shade you choose sets the mood and facilitates harmony within your environment. In the context of backyard and patio design, the best will speak to your personal aesthetic. Do you want a bold and attention-grabbing hue or a muted shade that blends into the background?
Today's luxury pergolas can be powder coated in a variety ofcolors–from classic white to trendsetting mint turquoise and grey-beige.
Using color to provide a unified look
The easiest way to achieve a harmonious transition from indoor living to your outside oasis is to match your pergola color to existing architectural elements. This could include the color of the siding, the stucco, or the brick exterior of your home, as well as decking, pool tiles, or even wood trim and gutters.
An illusion of more space
Your choice of hue can create the illusion of space. For example, consider a patio with a deep bronze-colored decking. A pergola with bronze roof beams that mirror the deck with white posts–will seemingly raise the roof beams higher.
Whether you've invested in a state-of-the-art outdoor kitchen with a louvered pergola roof or have a simple garden pergola, neutral colors like grey, bronze, and taupe are currently on-trend and allow for greater versatility.
Brighten your outdoor living area
For an eye-catching effect and outdoor focal point, you might want to choose a bright color like ruby red or pastel blue. This could contrast nicely with darker tones in your outdoor setting, but if you live in a community with a Homeowner's Association, check HOA guidelines before choosing your pergola color.
Modern sophistication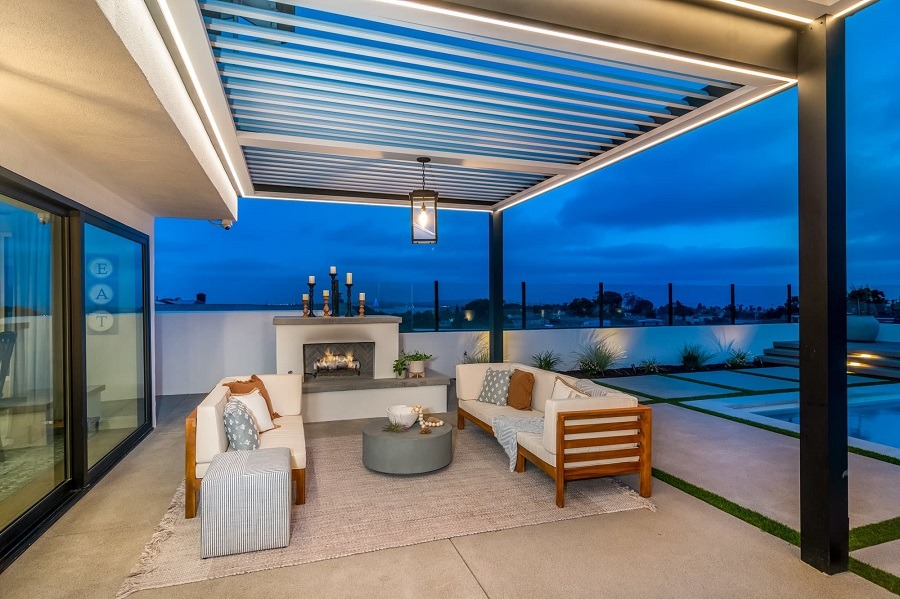 Dark shades and clean lines create a sophisticated look. If you want a more industrial style, a black pergola emphasizes the structure and lends the space a very architectural and modern ambiance.
A mixture of soft shades
Want to create a peaceful backyard oasis for casual meals and entertaining? Another popular choice is a two-tone pergola featuring soft, designer colors such as stone grey, pastel blue, and grey aluminum. At Outdoor Elements USA, our team has curated 16 designer colors, ensuring that clients can create the perfect pergola for their unique space.
Other factors to consider
Do you live in a warmer climate? Keep in mind that dark colors will absorb more heat.
Outdoor Elements uses matte pergola finishes which reflect less light, making them preferable for outdoor patio spaces.
Create your custom pergola
Outdoor Elements USA has a team of professionals and design experts who can help you achieve the look you desire in your outdoor living space. If you would like more information about our classic and designer colors and range of luxury pergola products, please contact us today.
Other Featured Blog Posts