Alfresco sidewalk cafes have always been a lovely option for diners in warm weather. However, outdoor dining facilities have become even more of a benefit for restaurants during these unprecedented times marked by COVID-19.
Even as restrictions ease, restaurants must still follow strict rules. To keep restaurants afloat, many cities have implemented policy changes that provide eating and drinking establishments with unprecedented authority to transform public spaces, including sidewalks and parking lots, into outdoor dining areas. Back patios and open rooftop spaces are also staying open to serve guests even as the temperatures drop.
As more restaurateurs recognize the value of creating permanent, appealing, covered spaces for year-round use, many have expressed interest in installing customized louvered patio roofs. Outdoor Elements is proud to be a part of this emerging trend as we help struggling bar and restaurant owners make an investment that may ultimately save their business.
Los Angeles goes alfresco
In Los Angeles, the LA Alfresco program was initially set to expire at the end of the summer. However, Mayor Eric Garcetti has permitted an extension through the end of 2020. The LA Alfresco program has been executed at no additional cost to the restaurants. Furthermore, the California Alcoholic Beverage Control board is permitting the consumption of alcohol in alfresco dining areas. These measures surely bring welcome relief to restauranteurs, and what's more, they are being replicated in jurisdictions throughout the country.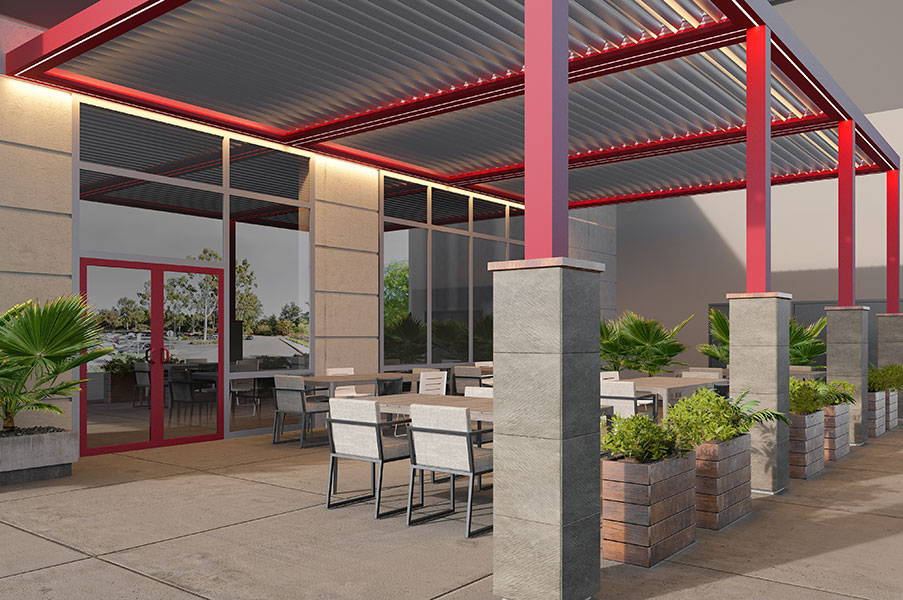 Diners prefer taking refuge in outdoor environments
Despite the prevalence of curbside pickup and delivery, and the availability of indoor options, diners have indicated a preference for eating outdoors. Even in Detroit, for instance, 64% of diners polled said they would continue to dine outside during the winter if the option existed. Spacious, open-air concepts are preferred over geodesic domes or tents. It's rather clear- people still want to go out and patronize restaurants as long as they can keep their social distance and stay healthy.
Restaurants take the initiative to define their spaces on their own terms
Makeshift parking lot tents may have worked in a pinch, but long-term strategies are necessary to ensure regular occupancy. Rather than waiting, many restaurants, bars, and cafes are taking the initiative to explore options for bringing the indoor dining space into the outdoors on a permanent basis. For example, a restauranteur might utilize a private parking lot, a large back patio, or even an open roof deck in order to seat more customers while still safely following social distancing protocols. This strategy would boost revenue both during the COVID era and well into the future.
Outdoor Elements keeps diners safe and comfortable
Though safety is the preeminent concern while COVID is still a threat, it isn't the only concern. The comfort of customers and safety from capricious weather is equally important when creating a profitable commercial space. Outdoor Elements brings an unmatched level of luxury to alfresco dining and helps create that remarkable "sense of place" people crave.
Outdoor Elements can install luxury louvered roofs on exterior patios, decks, entryways, courtyards, rooftops, sidewalks, and parking lots. We can accommodate almost any place you have space and approval to build.
Our design represents the latest in roofing technology with wide louvers that rotate a full 180 degrees to gently shade diners and shield them from the weather. The louvers can be controlled by built-in auto sensors, handheld remotes, and smartphone apps for the ultimate in versatility.
Customization options and season-extending features abound
Optional add-ons for louvered roofs include pleasant ambient lighting, party lights, or task spotlighting that allow bartenders and servers the ability to perform their best while allowing patrons to linger over a meal well into the night. Discreetly integrated heating elements provide warmth, while fans add a cooling component to enable cozy alfresco dining all year-round in temperate climates and greatly extend the season in colder climates.
Outdoor Elements designs commercial louvered roofs to the highest standards, manufactured with American materials and made right here in the USA. Unlike patio shades or tents, louvered roofs are built to last with little to no maintenance.
We work with you from concept to installation to meet custom specifications, with a full range of color choices and architectural styles. Our national dealer network services most large metropolitan areas with highly skilled technicians and architects. For added peace of mind, we honor a 10-year limited manufacturer warranty.
Contact us today to explore the possibilities for your outdoor space.
Other Featured Blog Posts